Ginseng Honey - Energy and Health Booster
Ginseng honey drink is a refreshing tonic drink made of the exotic oriental herb, ginseng which is known since ancient times to have active natural ingredients that are effective for reducing stress level, promoting cell regeneration by increasing oxygenation to the cells, revitalizing blood circulation, and detoxifying the body.
Revered in Chinese medicine for thousands of years to restore and maintain health, the herb today is well accepted in European and American medicinal applications and is used worldwide as a home remedy and in the preparation of hot and cold beverages such as tea, honey drink, beer, and applied as an ingredient in soaps and facial creams. In Asian countries such as Singapore, China and Korea, you can even easily find ginseng candies, chocolates and wafers. Among the varied promises of this popular herb are an increased physical stamina and vitality, better resistance to stress, and a rejuvenated nervous system.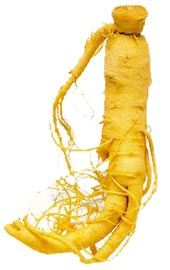 Many people are more familiar with the Asian species of ginseng, often called Chinese or Korean ginseng or scientifically known as Panax ginseng, which is very similar in appearance to North American ginseng. However, what may be confusing to many people is that these herbal products vary considerably in quality and many contain little or no detectable active ingredient. Also, not all potential risks and advantages of the herb are known. The most common side effects are nervousness, agitation, insomnia, diarrhea, and headaches. As it has an estrogen-like effect, children, pregnant women or breastfeeding mothers are advised not to take it. Occasionally, there have been reports of more serious side effects, such as asthma attacks, increased blood pressure, and heart palpitations. So far, there are no regulated manufacturing standards in place for these compounds to minimize the risk of contamination.

Ginseng roots are always seen as high quality, expensive items on the shelf, but they are bitter and the taste is unpleasant to most people. This herb is not something that people would eat or drink for its taste. Some Westerners have even described the taste of ginseng tea as awfully "dirt-like". To moderate its flavor, it is often combined with other fragrant ingredients such as chrysanthemum, lotus paste, cocoa, cinnamon, coffee, green tea, lemon, or even honey which is a natural antibacterial and anti-fungal preservative for ginseng and its compounds. Honey also contains a wide variety of vitamins, including pyridoxine (vitamin B6), thiamine (vitamin B1), riboflavin (vitamin B2) and Pantothenic acid (vitamin B5), and minerals such as calcium, copper, iron, magnesium, manganese, phosphorous, potassium, sodium and zinc, antioxidants and amino acids, the building blocks of proteins. An icy bottle of chrysanthemum or honey drink with ginseng extracts costs slightly more than a dollar at my workplace cafeteria. A very economical and healthy beverage that my colleagues often take to bring down temperature or 'heatiness' in the body! Ginseng honey is also widely used in the revitalization of skin cells. For instance, honey ginseng soaps, cleansers, toners, creams, and lotions have been developed for skin care to help in energizing sluggish and repairing lackluster skin. Its immune-boosting qualities and constituents stimulate metabolism on the cell-level, foster cell regeneration, promote anti-aging, enhance nourishment, support healthy skin functions, and address skin problems such as eczema, wrinkles and freckles.





End of "Ginseng Honey - Energy and Health Booster". Back to Home