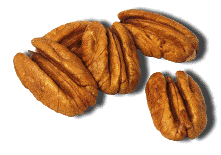 The most exciting part of running the Benefits of Honey website is making friends from all over the world and learning in a melting pot of diversely colourful cultures and nationalities. The journey of sharing with one another our knowledge and experiences is just awesome!
This honey pecan pie recipe was put up after Jenny Farris, a honey fan (also a great pecan enthusiast) from Lake Charles, La., tried it and gave a big thumbs-up for it.
Do you fancy pecan pies? Are you looking for a delicious homely pie recipe for this coming holiday season? This might just be what you are looking for... more in "Awesome Honey Pecan Pie Recipe".
All Copyright 2006-2008. www.benefits-of-honey.com