apple cider vinegar and honey 2014
Awesome Apple Cider Vinegar and Honey 2014 Postings
Apple Cider Vinegar and Honey 2014 Postings
Most Recent Posts: Apple Cider Vinegar and Honey Cure Many Ills

When I drink vinegar and honey I feel energized.
Donna Vanpelt-Whittle, United Statess
31 Dec 2014
My 8 yr old daughter has been taking antibiotics for her recurrent tonsillitis but it kept coming back up to 3x a month. I came across this Bragg acv and honey topic in one of my searches with the internet, and thought I found a miracle! I've never seen any antibiotic work faster than how honey-acv mixture with warm water. A day and a half of 3x gargle, 4x drinking and saw the tonsil stone went out of her tonsil's crater! I can't hardly believe.. this is so so great!
Cristy Fajardo, Philippines
30 Dec 2014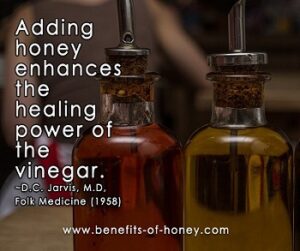 I am going to start this today… I am going to journal my progress… Also going to have my mom start this as well!
Pamela Warren, United States
28 Dec 2014
Have just started this mixture. Drink with 8ozs with 2 tsps. of each. Have not seen any major improvements yet.
Bill Smith, United States
20 Dec 2014
My daughter uses a mixture of Bragg acv, raw organic honey, and olive oil to cleanse her face. It works wonderfully! I will be starting the drink today today for general health benefits. I am a also dealing with a cough and terrible chest congestion and will be using the mixture to treat this.
Tasha Hatchett, United States
18 Dec 2014
Have agreed to try a Manuka honey and apple cider vinegar to get rid of an ache at the front of my thigh on my left leg. Can you please advise the measures of honey and cider vinegar, which can be used. Thank you.
Leslie, United Kingdom
17 Dec 2014
Ruth: There are no hard and fast rules for consuming honey and cider vinegar. As a guide drink 1 to 2 glasses of the drink.
* Mix apple cider vinegar (half to 1 tablespoon) and raw honey (half to 1 tablespoon).
* Dissolve in a glass of water (10-20oz).
I want to know the remedy called "Miracle Remedy", garlic is used in its formula… Apple cider vinegar – Honey – Garlic. Thanks you very much.
Maria Elena Cano, Argentina
17 Dec 2014
Ruth: Sorry we have not come across this "Miracle Remedy" which uses garlic.
I have been hit hard with an upper respiratory relapse. The first time around I took antibiotics and it took 6 weeks to recover. I started the ACV 2 tblsp, water 1 cup, honey 2 tblsp, lemon 2 tblsp and cinnamon 1 tsp tonic (I drink this 3 times a day) two days after the start of my relapse and 3 days later (day 5 of relapse) my cough and fever are improving.
Questions: the day I started the tonic, my skin started hurting. It's flushed and hurts when anything touches it, especially on my back. Has anyone had a reaction like this to the ACV, lemon, honey, water and cinnamon mixture?
Kim Rice, United States
13 Dec 2014
Ruth: No, so far, we haven't come across any reactions similar to those described. In fact, side effects of these honey and cinnamon are rarely reported.
The Dr. said my fibroid was growing fast, I would have to have surgery, I love ACV & raw honey I've been drinking 2 cups a day with tea and lemon, bathing in ACV for 2 months. I went to the Dr. twice since I started, each time he said it was getting smaller he was amazed I can't even feel it anymore, it's working fast. I also had a lot of pain at bedtime in my joints & legs, I sleep much better now.
Teresa Jones, United States
11 Dec 2014
I use ORGANIC apple cider vinegar and honey. I rub it in my hair ONCE a week (1 tbspn each). Let it sit for 5 minutes and then wash it out. My hair is softer and it is still dark brown (at 66yrs old). I love it!!
Richard Vermeulen, United States
16 Nov 2014
Some people have suggested apple cider vinegar and honey mixture with water is beneficial for diabetes. I would like to confirm that my diabetic mother can take honey. She is already on maximum dosage of medicine to control her sugar levels.
Rajesh chopra, United States
16 Nov 2014
I have been taking Braggs Apple Cider Vinegar with the Mother three times a day, I have noticed softer skin and healthier hair and nails. I have definitely seen improvement in my over all health.
Carolann Couture, United States
13 Nov 2014
Starting honey and cider vinegar tomorrow. I have had the lap banding surgery and lost 45 kilo, but I'm still not healthy, not losing weight anymore still want to lose another 10 to 15 kilo, I also suffer from osteo artinites in knees and feet And very sluggish metabolism, due to mainly having liquid diet. So going to give this a go.
Julia Bowker, United States
12 Nov 2014
For the honey and apple cider vinegar, which is preferred cold or hot water?
Wahaki Moochy, United States
30 Oct 2014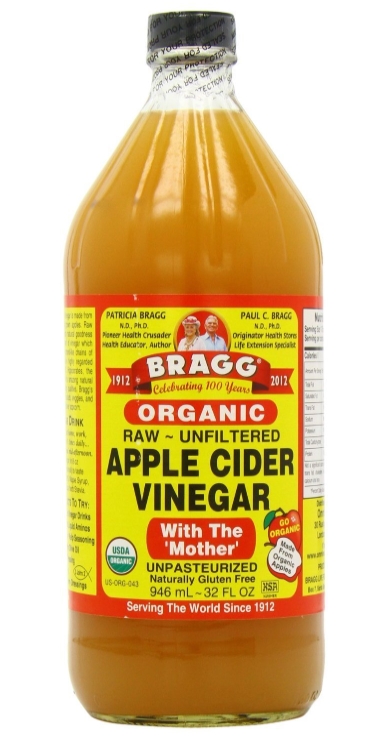 Ruth: Cold or warm water is fine (not more than 50 degree C.). Boiling hot water should be totally avoided as it will kill the living enzymes in the mixture. Having it chilled makes a big difference to the taste for some people. You may also find the section on "Can I Drink it Cold?" in the following page relevant: Honey and Lemon for Weight Loss.
Braggs apple cider vinegar mixed with organic honey is very important for my health I have osteoarthritis and I promise you that I am I less pain also slowly I am losing weight. Wonderful!
Elaine Shure, United States
25 Oct 2014
For years I have been drinking apple cider vinegar and honey, when ever I felt a cold trying to attract my body. It worked for a long time, then it stop working for a while. I have told co-workers about it and it help them. I am having a great deal of joint pain all over my body, I am back drinking it and I hope I can get some good results.
Phyllis Bell, United States
24 Oct 2014
I drink 64 oz of reverse osmosis water with 2 Tbsp of Braggs vinegar per 32 ozs along with the honey/ vinegar warm twice a day. I do this to alkalize and for joint pain. It works!
Wanda Pruitt, United States
23 Oct 2014
I just started drinking the concoction a week ago and already my sinuses are better. I hope it helps me with the acid reflux and weight loss.
Keitumetse Kwinda, South Africa
23 Oct 2014
Try this mixture, it tastes real good. Some lime, apple juice, take 3/4th glass of water, heat in microwave for 40 seconds. Mix 1 table spoon apple cider vinegar and 1 teaspoon honey.
Faisal Mujeeb, United Arab Emirates
20 Oct 2014
I have had painful UTI`s for quite a while. Antibiotics were a terrible solution with so many miserable side effects. I began looking for a natural solution. Oh my goodness!
4 days into the apple cider vinegar and raw unprocessed honey routine has me thinking that I have found my cure. Also, my research has given me lots of positive reasons for making this part of my daily routine. PLUS…I found a neighbor three blocks away that raises bees in his backyard. That really brought new meaning to LOCAL HONEY.
Beth, United States
16 Oct 2014
I just started the Apple Cider Vinegar & Honey today, will keep track of healing.
Darrelyn Landers, United States
13 Oct 2014
Looking forward to better health through better knowledge.
Donald Sprinkel, United States
8 Oct 2014
It helps smooth out stomach issues, basically helps me poop. It's also incredibly helpful with my chronic sinusitis.
Jennifer Shea, United States
1 Oct 2014
I have High Blood Pressure and it went from 175 to 140 after using the honey vinegar mixture.
Myra Carter, United States
1 Oct 2014
Just starting to drink Bragg's Apple Cider Vinegar and local honey. My PH balance did not even register on the test strip (very acidic). I have been treated for a dry cough, asthma, irregular heart beat, high blood pressure, high cholesterol, acid reflux, etc., for many years. Hope this helps.
Rose Mondi, United States
28 Sep 2014
If you do not sip the mixture, it's going to give you cramps, that's my experience with the apple cider vinegar.
KK Nelson, United States
28 Sep 2014
I had them bad (mostly during the nite }. Seemed like it took a couple months but finally can say I hardly get them. I take 1 ts of vinegar in 4 oz of water & 1 ts of pure honey every morn.
Marge Lee, United States
22 Sep 2014
I'm currently suffering RA in my hands, wrists, elbows, knees, feet, and just about every joint in my body. As you might know this condition is extremely painful and causes a lot of inflammation and would like to start drinking the ACV and honey remedy asap.
However, the recipe I came across includes garlic in the mixture. Is anyone familiar or has tried that combination for arthritis? I'm desperate here, for this terrible pain brings me to tears every single day, limits my mobility a great deal, and cannot get a good night sleep most nights. Thank you in advance for your kind and prompt reply.
Amliv, United States
19 Sep 2014
Ruth: Garlic is known to have anti-inflammatory properties and beneficial effects on bone and joint health. Thus it is sometimes added to various concoctions including honey and cider vinegar for treating arthritis.
While many have found cider vinegar and honey (without garlic) to be helpful in relieving arthritis pains, I guess there is no hard and fast rule in taking these natural foods and how they should be combined with other foods. More in: Nip Arthritis Pain in The Bud.
Hi I want to try this Honey and Apple Cider Vinegar, but not sure if the water should be cold or warm.
Maud, South Africa
17 Sep 2014
Ruth: There is no hard and fast rule, but when taken in the morning, warm water helps in cleansing the system and kick-starts our metabolism for the day. Related page: Honey and Lemon for Weight Loss.
I used it as a refreshing drink at the same time treatment as pain reliever to joints pain.
Jocelyn Guillergan, Philippines
17 Sep 2014
Can the Apple cider/Raw Honey concoction be used to treat Urinary Tract Infections and an enlarged prostate? what about reducing high blood pressure? Please advise.
Fidel Kanika, Zambia
14 Sep 2014
Ruth: Fidel, the cider vinegar and honey mixture is commonly used as a remedy for urinary tract infections and high blood pressure. But so far we haven't come across its use for prostrate issues.
I want to reduce 30 kg weight.
Taru Bhardwaaj Singla, India
10 Sep 2014
Equal parts of honey and vinegar. Is it ok to take just a spoonful every day without mixing it with water.
Jane, United States
6 Sep 2014
Ruth: Jane, cider vinegar is too strong to be taken without mixing and diluting with water.
My husband and I started drinking this back in April. We are going into our 5th month. He has lost 24 pounds to my 20( and inches). We didn't do this for weight loss so much as for my arthritis and diabetes. I was living in so much pain and an MRI and CT scan showed that I had arthritis so bad in my neck that I was going to need surgery.
I've not had the surgery and I have no pain in my left arm at all for almost two months now. My A1C reading is down also, so for what it's worth, it's working for us. I make a gallon at a time using 1 cup of apple cider vinegar to 2 cups of pure honey. I also throw in a few cinnamon sticks. We drink 8 ounces, three times a day. I use the cheap apple cider vinegar ( a gallon is less than $3) The honey however is getting expensive but as long as I have no pain, I'll gladly keep buying it. It also keeps your bowels regulated as well as detoxes your body. Hope you have good results.
Linda Gillette, United States
1 Sep 2014
I would like to get more info and recipes of honey nd beauty tips.
Princess Gumede, South Africa
1 Sep 2014
My 15 yr old Miniature Pinscher (aka MinPin) was boarded recently for the 1st time. He does occasionally have minor seasonal allergies since we moved from WI to SC. It's nothing that 1-2 does of Benadryl can't fix. In order to be boarded he needed to be up to date on all shots including Bordetella, which is a vaccine only given to pets who are boarded to fight against things like kennel cough.
Having to leave him w/a kennel was a last minute decision, so we took him to the vet the day before, he had a full exam including a blood test and was given several shots including Bordetella in order to provide an up to date shot record. Theoretically u should give them the Bordetella shot several weeks prior to boarding. We got a call back from the Vet the next day after we had dropped the dogs off to say that his blood work showed some low numbers regarding his thyroid, and some excessive white blood cells in his urine.
He was not sure what caused this, but stated since he did not have any other signs pointing to a thyroid problem, and there was a presence of white blood cells, he thought it mat be a UTI and suggested we stop by when we got back to pick up an antibiotic to treat the urinary tract infection. We dropped the dogs off Thursday morning, and picked them up Sunday morning. When we picked them up both dogs (8 yr old Minpin & 15 yr old Minpin) both dogs were congested, w/watery crusted eyes. I assumed this was due to allergies. So I gave both dogs Benadryl when we got home.
The younger one got better soon after. The elderly dog did not get better, he was extremely congested, he woke up several times thru out the night unable to breathe his nose was completely stuffed, and even breathing thru his mouth was difficult. I wrapped a steryl pad full of Vicks Vapor Rub to his collar, then wrapped him up, tented, in a baby blanket so he was breathing in the Vicks in order to clear his nose enough to sleep.
I took him to the Vet the next day, I said is this a reaction from the Bordetella shot, like sometimes u can get the flu from the flu shot? Or was he not vaccinated soon enough to protect him from kennel cough or something else transmitted from other dogs? Finally is this related simply to allergies, or possibly to the blood work issues found prior to boarding?
The Vet was unsure, but said she could hear the congestion all the way into his lungs. She changed the antibiotic ordered for him to Amoxicillin to treat both the congestion and the possible UTI, and added a pill for coughing to help clear the congestion. After several days of not getting better, I talked w/my local pet store owner about something for congestion. She said they did not have anything, but suggested giving him 3ml of equal parts pure honey & apple cider vinegar. She stated she had given it to her dog for congestion from allergies and it helped.
I have given it to him twice so far. Both times w/in about 15-20 minutes he immediately calmed down and was able to rest without constant coughing or trouble breathing thru his nose. It lead me to do an internet search of honey & apple cider vinegar. Which lead me to this site. This really works, it allowed my 15 yr old dog (baby) who is a HUGE part of our family to breathe clearly, after suffering for days from a respiratory infection that lead to horrible congestion.
Jodie, United States
28 August 2014
Ruth: Thanks for sharing this, Jodie.
Love to try it.
Pearline Woodson, United States
21 August 2014
This drink has saved me over and over again. It's healed tooth infections, sicknesses, sore throat, aches in my joints, helps speed up metabolism and shed unwanted waste in the body, keeps you regular in the bathroom.
You must keep faithful to this drink.
2 Tablespoons Organic Apple Cider Vinegar
1 Tablespoon Organic Honey
1/3rd Organic Lemon
10 ounces of water
3 TIMES A DAY
A) Upon waking up, ingest this drink before doing anything.
B) Drink before eating lunch
C) Right before hitting the sack, down 10 ounces of this drink.
Yes you will wake up to use the bathroom but the benefits you feel just within the fist 3 days are amazing. Our United States government doesn't wan't you to be healthy which is why you don't find this advertised more. But I tell you, if you wan't to be as healthy as ever, MAKE THIS A HABIT. God Bless
RJ Valdez, United States
21 August 2014
I have arthritis in most of my joints, and tried apple cider vinegar with honey. I heard it is an old cure and decided to try it, but after taking a glass after my breakfast and after my supper, I got sharp pains in my knees and in my feet. This happened about 45mins after drinking it. Would be grateful for any feedback?
Kathleen Garrett, Ireland
20 August 2014
Ruth: Kathleen, I would ascertain if the pain was caused by the cider vinegar and honey. If it's not a temporary setback and continues to persist each time you take the drink, then you should stop taking the drink.
Has anyone experienced the same side effects or have an inkling what is going on here?
Great results.
Frank Fitzpatrick, Ireland
13 August 2014
I try this Apple cider vinegar and honey , taking using the procedure. It's really good for me. Before that my foot feel heavy and pain and now I feel better now… thanks.
Dominica Virrey, Hong Kong
11 August 2014
I start drinking this acv with honey in warm water full bottle in the morning and full bottle in afternoon…and one two cup in the evening. I hope it's not harmful to take that much of amount?
Vinni K, Canada
8 August 2014
Ruth: That sounds like a lot of cider vinegar and honey for a day. I'm not sure if that dosage would pose any side effects in the long run, but we would go with 1 to 3 glasses a day.
I am looking for gout remedies. Thanks.
Ray Vasquez, United States
5 August 2014
Ruth: Ray, cider vinegar and honey drink is known to be effective for treating gout. You may want to read more in: Nip Arthritis Pain in The Bud.
I started taking a mixture of ACV, honey, and cinnamon to help with my indigestion. Wow it really did the trick! The recipe* I use is:
1 cup Apple Cider Vinegar
1 cup Real Honey (NOT cheap China honey)
1 teaspoon Cinnamon
– Mix everything up in a glass jar with a tight lid and shake it up really well. Keep it in a cool dry place or in the refrigerator.
– I take 2 Tablespoons in a glass of water in the morning before breakfast and again at night.
It has really changed my life and it even freshened my internal breath from my stomach.
*I adapted this recipe from an article I found at http://blogs.naturalnews.com/healthy-apple-cider-vinegar-remedy/
Mona, United States
21 July 2014
My father would mix equal parts of vinegar and honey in a jar and keep it in the icebox. He took 1-2 tbsps. a day and his doctor said that he had the cleanest blood he had ever seen. He never gained any weight either. So I plan on trying this remedy on me!!
Debra Dean, United States
20 July 2014
I'm very interested in apple vinegar and its healing properties, maybe it will assist in my weight, arthritis and heart issues.
Bronwyn Potter, Australia
20 July 2014
This my first time trying apple cider vinegar, it has so many benefits, I'm excited to try it & see my results.
Stephanie Micenheimer, United States
19 July 2014
Hello, I have only just started making the honey remedy. It is rather sour, but I have adjusted the amount of honey. I have only been using the normal apple cider vinegar from the super market, so I will be purchasing the organic cider vinegar as soon as possible. Hope this all helps my arthritis. Cheers.
Anna Takacs, Australia
5 July 2014
LOVE this stuff!! Drink it 2 times a day. You can now buy BRAGG Apple Cider Vinegar at WALMART! Better price. Awoke with severe toothache swelling and infection. Took 2 pure tablespoons ACV and held it in my mouth on the toothache side for 2 minutes. Swelling and pain gone in 1 hour. Dentist said I healed it and did nothing. It had drained itself and healed. He said he would tell his patients if a weekend came and they were in great pain! Would not be without it!
Katie Smith, United States
5 July 2014
Have had some vinegar/honey water on shelf, unrefrigerated for awhile. What is my shelf life unrefrigerated?
Carr Magel, United States
2 July 2014
Ruth: Hi Carr, once vinegar and honey are diluted with water, you wouldn't want to take it if it has been left overnight unrefrigerated. If refrigerated, consume it in a few days.
Carr Magel: Ruth, you were the only one to take that position. Many speak of months if kept out of direct sunlight and cool not refrigerated. Check your iPad. When you think of it water keeps forever by adding vinegar which keeps even longer the mixture should be long term. No?
Ruth: Water with vinegar only, perhaps. But water with vinegar and honey, no. Microorganisms such as yeast can flourish.
(Note: In warm climates, room temperature (i.e. even without direct sunlight) can be as high as 35 degree Celsius. In such environment, leaving a honey and vinegar drink unrefrigerated all the more should be avoided.)
Our home's go to natural remedy when we feel like we're going down with fever or flu…acv and honey (I also add lemon), with warm (not hot or boiling hot) water, works almost instantly! My uncle visited us at home and complained of feeling sickly, I fixed him a warm cup. After a short while, he asked me what I gave him because he was feeling a lot better.
My 7 yo son was in a same situation when I asked him to try and drink acv with honey and lemon. Quickly after, without finishing his cup, his mood changed and he blurted out, "now I know it's true, moms know best!". I don't drink vitamin supplements at all but I drink this every morning when I wake up…such a good way to start my days! Moms should try this!
Aileen Vega, The Philippines
30 June 2014
I have never tried this before. I hear and read about apple cider vinegar and its uses, I am ready to try the ACV and honey.
Norman Teitelbaum, United Kingdom
26 June 2014
My mum always used cider vinegar and honey, she gave to me for a really bad sore throat I had once, I gargled about three times a day and it cured it, I want my daughter to use it for mouth ulcers she gets after chemo, nothing else seems to work, so I want to post on my page so people can see the good it does, thank you.
Anne Laurel, United Kingdom
21 June 2014
Instead of making individual glasses of apple cider vinegar and honey and lemon juice, is there any harm in mixing a gallon jug and keeping it in the fridge?
Norman Teitelbaum, United States
20 June 2014
Ruth: If you are drinking a few glasses a day, I suggest mixing just enough supply for a day or two and keep it in the fridge. Most people like to drink the concoction fresh as far as possible, considering that it is actually a very simple mixture to prepare.
Wondering if honey and cider vinegar which cures any sore throat I get would cure Asthma. Can't get any asthma sufferer to try it. Only had 3 colds in 7 yrs. Since asthma sufferers have low immune systems and acv improves the bodies immune system it's worth a try. If it does it would be a major breakthrough.
Peter Souster, United Kingdom
20 June 2014
Ruth: Last year, we received a brief post about using cider vinegar and honey to treat asthma. Many have also found the mixture to be effective for cough. Do a search for "asthma" or "cough" using Ctrl + F on this page and other pages on older related posts: Apple Cider Vinegar and Honey Cure Many Ills.
It is very good.
Arshad Islam, Pakistan
19 June 2014
I've used apple cider and honey for the past 10 years. It still amazes me the curing affects on cold even the flu if taken early enough. My whole family believes in it. The list goes on and on.
Jerry, United States
14 June 2014
I enjoy the mixture, it helps me eat less.
Regina Wilson, United States
11 June 2014
Is it good to mix raw honey, lemon juice, cinnamon, apple cider vinegar and water?
Haley, United States
10 June 2014
Ruth: It's fine as there is no hard and fast rules related to the consumption of these natural foods. I have come across various concoctions including using cider vinegar with cinnamon, green tea, lemon juice, pomegranate juice, etc. I suppose for some people who feel that cider vinegar or cinnamon tastes nasty, they have found their own way of making the concoction more palatable.
But if you wish to find out how your body responds to specific food, I recommend taking one type of mixture at a time and each for a period of time, eg honey and lemon, honey and cider vinegar or honey and cinnamon. In this way, you will then be able to attribute the effectiveness of each mixture for own application.
This is an absolute must for me. Recurring urinary tract infections left me allergic to prescribed antibiotics. Tried the raw honey and Bragg's Apple Cider… 2 days…TWO DAYS it was already subsiding. AMAZING!!
Carol, Canada
9 June 2014
Can I combine blackstrap molasses with apple cider vinegar?
Veeramani Ramanujam, India
7 June 2014
Ruth: Blackstrap molasses is a concentrated liquid extracted during the process of refining and manufacturing sugar cane into table sugar. It is reported to be rich in vitamins and minerals, but many warned about sulphured molasses and advised consuming only unsulphured molasses made from matured cane plants that have been allowed to ripen naturally. Sulphur dioxide has been added to keep raw young sugar cane fresh. I am not familiar with the benefits of blackstrap molasses but wouldn't focus too much on a food derived from a highly processed source.
I love the Braggs Apple Cider vinegar. I take it every day.
Susan Anderson, United States
5 June 2014
This stuff really gets your motor going. Thank you so much.
Lizz, United States
31 May 2014
I just love the stuff. Thank you.
Lisette Hepburn, Australia
30 May 2014
I make this ACV & honey drink at home and my husband calls it "my concoction". it will take away that late night urge for sweets. As well, if I get an upset stomach, I'll take a teaspoon or two of raw honey and it always makes my stomach ache go away.
Joanne Doss, United States
28 May 2014
I am an obese woman with diabetes type 2, my cholesterol was into the 200's and i was diagnosed with chf, copd, high b/s and high b/p . I also had a sinus infection so bad if i moved my nostril I could smell a horrid dead sme. I began to drink the honey vinegar drink and I take honey and cinnamon at least 3 x's a day. I also began 4 drops of wildflower oregano oil in a medicine cup filled with water at least once every am but when sick like every 4 hrs the same as cinnamon and honey…
I use an olive leaf spray followed by a saline spray in my nose with all the sinus and allergy attacks going around I have had a 3 day attack of the sinus bug while everyone else has had consistent get over it get it back…horrid throat etc..
I swear by raw honey and cinnamon and the drink..in my drink I also sprinkle a little cayenne pepper has so many great qualities..it does not work overnight so stay at it, it took me 4 weeks to totally get over the first bad infection I had now it is my daily regime … good luck and oh "NO HONEY FROM CHINA" IT IS GARBAGE!!!
Lili Hyatt, United States
27 May 2014
I use cider for acidity.
Esmat Damji, Kenya
19 May 2014
I have a 5 year old son who gets a stubborn cough almost every time he gets a cold… One day I decided to try giving him warm water with honey and ACV. It literally took the cough away completely AND basically stopped all cold symptoms dead in their tracks. I now give to him at the first sign of a cold and 3 times this winter was able to keep him from missing school due to cold symptoms. It works folks, it really works! Our whole household uses this remedy now whenever we feel we might be coming down with something or even as a preventative when co-workers are sick.
PS: I use cinnamon in the "tea" also, it makes the vinegar more palatable for a 5 year old and of course has its' own cold fighting properties!
Andrea Mathieu, United States
13 May 2014
Ruth: Thanks for sharing, Andrea. Honey cider vinegar is an excellent cold fighting, immune-system boosting tonic!
Did anyone really lose 5 lbs of toxins from doing this vinegar-honey drink for 2 weeks?
Soph, United States
10 May 2014
I love Braggs ACV for my hair. I just had a cup of ACV and raw honey, it was delicious!!
Teri Seals, United States
10 May 2014
Ruth: May I know the benefits of using ACV for the hair? Do you have to combine it with honey?
Teri: I love ACV because it returns hair to a healthy ph. Conditioners make hair alkaline, which means soft. Hair is acetic. Hair is around 4.5-5.5 on the ph scale. Rinsing brings the ph to correct levels. It will stop hair drop quickly–if that's a problem. It closes the cuticle if the shaft. If done after conditioning, it closes the moisture in the hair shaft. Hair feels healthy and strong. I don't use honey. I use honey when I'm making a drink — better than it sounds. It tastes like lemonade.
Apple cider vinegar is very good for the body.
Jasmin Haskins, United States
5 May 2014
I have cramps in my legs. Also have hard time getting good sleep as I wake up a few times at night. I also have problem having to go to the toilet for my urine which is sometimes 3 to 4 times nightly, I have been told that the apple cider vinegar and honey will help. Will it?
Angelo Pusateri, United States
18 April 2014
Ruth: For leg cramps, cider vinegar and honey helps. Take a tablespoon of apple cider vinegar is mixed a tablespoon of raw honey in a glass of water. Ref: Apple Cider Vinegar and Honey Cure.
The Hibernation Diet over the long run can significantly improve sleep quality and help you sleep through the night without having the need to wake up to go to the toilet. More details: The Honey Diet
Feeling great since I started taking apple cider vinegar and raw honey.
Helen Ziegler, Canada
30 Mar 2014
Hi, my name is Joyce and I'm a 49 year-old woman I was on the internet and I came across this about vinegar, lemon and honey so I told my husband that I had to try it and so I did. I have been doing this for about three days on Monday-Wednesday-and Friday. When I first weighed I was 167.0 pounds, that was last night, then I did the lemon and honey and vinegar again then I weighed 165.4 pounds.
Joyce P Smith, United States
19 Mar 2014
I have had a sore throat with bronchitis for 5 days. Doctors medicine has not helped. I am trying 2TBS apple cider vinegar, 2 tablespoons of lemon juice, 2TBS of honey, a sprinkle of cin. in 6 oz. of warm water. Found this in home remedies. Will post the results after a few days.
Elaine Robles, United States
7 Mar 2014
I refer the Braggs Apple Cider Vinegar and Braggs Amino Acids to everyone I come in contact with. I personally drink it daily.
Sherin Lee, United States
6 Mar 2014
This is actually pretty good with lemon! I also use ACV and Bentonite clay as a face mask, it's amazing. Braggs is the best… it has the "mother" in it that is essential for all of the health benefits. You could add a little cayenne pepper in it as well…I like the taste.
Alexis, United States
27 Feb 2014
I just read somewhere else about ACV, honey and lemon juice to help calm a cough and tried it about 5 mins. ago. Will let you know in a little while how it's doing. Have had antibiotics already – cleared up some and now it's back. Post nasal drip at night, coughing and sneezing in the mornings – ugh. Time to try some natural remedies.
Cheryl May, United States
8 Feb 2014
I use honey, cider vinegar and distilled water as an eye drop. I just started to use it to see if it helps with my high eye pressure.
Donna Demers, United States
31 Jan 2014
I'm just 2 days into drinking this apple cider vinegar with honey. Now I feel good, active and have lost weight, thanks to apple cider vinegar, it is truly effective for your good health.
Hanna Mashie, The Philippines
24 Jan 2014
Apple cider vinegar and honey used as remedy for colds and sore throat really works.
Jeanette Caswell, United States
21 Jan 2014
Mary & I have been taking 2 tbsp's of Whitehouse brand apple cider & equal part of honey mixed in 8 to 10 oz. of warm water every morning, it really works!
Virgil A., United States
19 Jan 2014
Honey mixed with chilled water will vanish back pain.
Habibullah, India
9 Jan 2014

End of "Awesome Apple Cider Vinegar and Honey 2014 Postings". Back to Latest Posts in "Apple Cider Vinegar and Honey Cure Many Ills".