All Natural Eczema Remedy with Beeswax – 3 Simple Steps!
Eczema causes the skin to be become inflamed and itchy. Affected areas can also become very dry, thickened, and scaly. These symptoms are often aggravated by the cold, dry air and harsh temperatures of the season. Excessive scratching can even lead to an infection.
Here is a very simple eczema remedy for relieving extremely dry, itchy skin. 100% natural and chemical-free, this beeswax salve soothes and protects delicate skin and is suitable for young children and adults. And you can prepare it in just 3 easy steps!
Ingredients you need: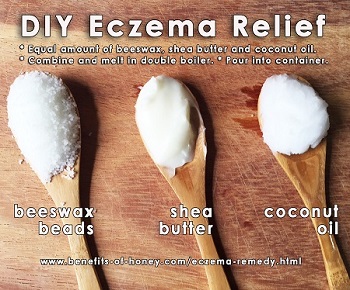 1. Beeswax
Beeswax has exceptional healing properties due to it anti-inflammatory, antiviral, and antibacterial benefits and has been used by the ancient Egyptians, Greeks and Assyrians for various skin conditions. A great source of vitamin A, it is also a popular humectant for promoting hydration of skin, and an excellent emollient that softens and soothes the skin. I prefer to use beeswax beads for easy melting and measuring in tablespoons for making the salve in small quantity.
2. Shea butter
An ivory-colored fat extracted from the nut of the African shea tree oil, Shea butter is also known as the karite tree, which means the Tree of Life. It is used for moisturizing skin and protecting it from harsh environments. It also promotes and accelerates wound healing.
3. Coconut oil
Coconut oil is used in many natural beauty products. Not only is coconut oil superb in moisturizing and repairing skin, it also possesses antibiotic, anti-fungal, anti-oxidant properties that help neutralize free radicals and stimulate cell growth.
Instructions:
1. Combine the three ingredients in equal amounts.
2. Thoroughly melt them in a double boiler.
3. Pour the liquid into a container and allow it to harden.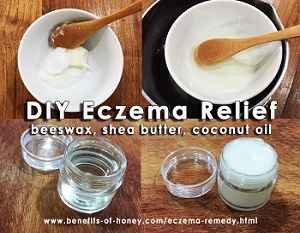 Here you have an all-natural balm remedy for eczema! 100% natural and free of chemicals and preservatives! It is also a great cure for dry skin, cracked heels, chapped lips, sunburn, skin allergies, rashes, skin blemishes, wrinkles, etc. Apply it twice a day and especially after getting out of the shower to lock in moisture. Forget about Eucerin lotion or Nivea cream!
It's also great to use products that contain beeswax, as it's all-natural, and unlike paraffin wax that's made from petroleum, beeswax is naturally produced by honeybees.

Burt Shavitz, "The Bee Man", Co-founder of Burt's Bees
"We lived for honey. We swallowed a spoonful in the morning to wake us up and one at night to put us to sleep. We took it with every meal to calm the mind, give us stamina, and prevent fatal disease. We swabbed ourselves in it to disinfect cuts or heal chapped lips. It went in our baths, our skin cream, our raspberry tea and biscuits. Nothing was safe from honey…honey was the ambrosia of the gods and the shampoo of the goddesses."

Sue Monk Kidd, The Secret Life of Bees
Related Pages on Eczema Remedy and Beeswax
1. If you are located in Singapore, checkout 100% pure beeswax beads, pellets, and blocks at: Bee Healthy
2. A safe, effective, and natural eczema treatment with honey: Natural Eczema Treatment with Honey
3. Discover why beeswax candles are more superior than regular candles: Beeswax Candles Versus Paraffin Candles
4. Beeswax is used to construct the combs in which the bees raise their young and store pollen and honey. But: How is beeswax made?
5. DIY beeswax recipe that bursts with the natural scent of honey and coconut: Coconut Beeswax Lipbalm Recipe
End of "All Natural Eczema Remedy with Beeswax – 3 Simple Steps!". Back to 6 Pampering Homemade Natural Skin Care Recipes with Honey