honey bee pollen face mask
2-Ingredient Honey Bee Pollen Face Mask – Simple Yet Powerful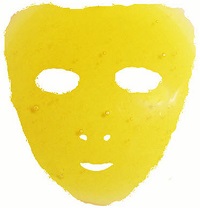 Here is my favorite face mask – honey and bee pollen mask. Though it's made up of just two natural ingredients, i.e. raw honey and bee pollen (ground to powder form), the benefits it offers are too many. Packed with vitamins, minerals, amino acids, antioxidants, this gentle mask can effectively reduce wrinkles, rejuvenate, tone, and clear skin in days. And suitable for all skin types, this mask works well in nourishing and protecting healthy skin as well as healing and repairing skin that is troubled by acne, rosacea, rash, eczema and other problems. It is an incredibly easy recipe.
All you need:

1 tsp of bee pollen (ground)
2 tsp of raw honey (Note: for a drip-free experience, creamed honey, as opposed to liquid honey is most ideal due to its viscosity)
Instructions:
1. Mix the ground bee pollen and raw honey in a bowl.
2. Apply as a facial mask.
3. Rinse the mask away after leaving it on for about 30 minutes to an hour.
4. Apply a few times a week.
Related Pages
1. A simple, all natural eczema remedy with beeswax for relieving dry, itchy skin and protecting delicate skin: Natural Eczema Remedy with Beeswax
2. A safe, effective, and natural eczema treatment with honey: Natural Eczema Treatment with Honey
3. Facts about acne and acne treatment: Get Right Acne Treatment and Control
End of " 2-Ingredient Honey Bee Pollen Face Mask – Simple Yet Powerful ". Go to "Natural Skin Care"