10 Science-Based Honey Benefits For Skin You Should Know
By Emily Pham
Honey is commonly used for sweetening our tea and coffee, and for drizzling onto salads, smoothies, and pancakes. It is a popular choice of sweetener because it is natural and it can improve digestion, combat insomnia, regulate blood sugar, promote energy, aid weight loss, etc. And probably lesser known is what honey could do for our skin.
Ideal for beauty purposes, honey can help to improve our skin in many ways as it is a storehouse of antiseptic, antioxidant, antibacterial, humectants, and anti-inflammatory properties. Whether you are searching for an easy and inexpensive remedy for tanning, acne or wrinkles, raw honey is a wonderful natural solution for lots of day-to-day beauty issues. Here are some of the most important honey benefits for skin.
1. Fight Acne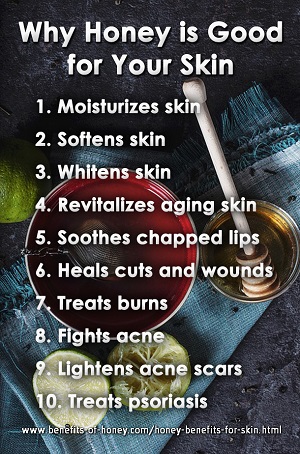 According to a study published by the Central Asian Journal of Global Health, honey could help to prevent the growth of Propionibacterium, a bacteria that is found on our skin and can cause acne if it gets trapped in hair follicles. It is effective at taking impurities out of the skin pores while acting as a cleansing agent. Besides, it has anti-inflammatory, antioxidant, healing, antimicrobial, and cleansing properties, which make it effective for treating acne problem. The application of honey on acne helps to reduce swelling and kill the acne-causing bacteria.
For this treatment, you add one teaspoon of baking soda to two teaspoons of raw honey and mix them well. Use your fingers to apply this mixture to your acne affected area. Scrub in a circular motion for 3-4 minutes before rinsing with lukewarm water.
2. Lighten Acne Scars
Honey is a natural antiseptic that helps to lessen the severity of breakouts. Honey also aids in reducing inflammation that can cause severe acne scars. It further keeps the skin soft, smooth, and healthy since it is a natural moisturizer. Moreover, thanks to its antioxidants, it is beneficial for repairing damaged skin.
For this remedy, mix honey and extra virgin olive oil or coconut oil in equal amounts. Massage the mixture over the scarred area for two minutes using a circular motion. Pick up a warm washcloth and put it over the area. Keep it in place till it cools and after that, wipe the area clean by using a cotton ball. Try this method twice daily.
3. Treat Psoriasis
Psoriasis causes blisters, itching, redness, and even lesions for the skin. Honey can help cool the skin, lower inflammation and protect the damaged skin from becoming infected. Besides, psoriasis wounds (pustules, bleeding and cracked skin) can be defended from external infections caused by fungal or bacterial activities with the application of honey. This is because honey exhibits the antimicrobial and antifungal agents. A study by Al-Waili NS showed that topical application of natural beeswax, honey, and olive oil mixture is beneficial for treating psoriasis vulgaris and dermatitis.
Take a microwave-safe bowl and put one teaspoon each of beeswax, olive oil, and honey in it. Warm this mixture in a microwave until the beeswax melts. Then, apply to the affected region as a lotion several times a day.
4. Treat Dry Skin
Humectants are substances which help to maintain the natural moisture levels of the skin. Dry skin often lacks moisture, and honey, an excellent humectant, is useful for sealing in the moisture in the skin, making it supple and soft. Some diseases such as psoriasis and eczema can cause the skin to become dry. Thankfully, honey can treat these skin issues and other issues such as burns, wounds and cuts, and inflammation.
For this purpose, mix one tablespoon each of unsweetened and unflavored yogurt and honey well. Spread this resultant mixture on the affected skin and rinse with warm water after 15 minutes.
5. Help Whiten Skin
Honey is helpful for soothing inflammation and protecting the skin from germs and irritants because it possesses the antibacterial agents. It is also potent in protecting the skin against harmful UV rays of the sun and increasing the ability of the skin to rejuvenate. Apart from that, the natural moisturizing agent of honey can retain moisture to, keep the skin supple, healthy, and hydrated.
Combine 1 1/2 tablespoons of honey with one tablespoon of fresh yogurt. Apply the mixture to the face and wash off after 15 minutes with warm water. For best results, follow this method daily.
6. Slow Down Skin Aging
Because of its rich source of antioxidants, honey can defend the skin from free radical damage. Free radicals stimulate the aging process and can cause crow's-feet, wrinkles, fine lines, and even sagging skin. It additionally keeps your skin well-hydrated.
For this remedy, mix fresh lemon juice and raw honey in equal amounts. Spread it on the skin and let it dry naturally. Use lukewarm water to rinse it off and follow the same steps once or twice per week.
7. Heal Minor Cuts And Wounds
Honey is a great germ killer, so it is often used to fight against minor cuts and wounds. It speeds up the healing time by eliminating fluid from the affected area. Along with that, it works wonders in preventing the development of microorganisms and reducing the risk of infection. According to research, honey has been used as a remedy in wound care since ancient times and might be effective as a topical treatment for acute wounds (Cochrane Database Syst Rev. 2015).
All you need to do is, spread a thick layer of Manuka honey on the affected area. Cover the area with a bandage for several hours, then remove the bandage and clean the area with a moist cloth. (Consult your doctor when using this remedy for treating chronic wounds such as infected surgical wounds and skin ulcers.)
8. Treat Minor Burns
Honey can help to treat minor burns, which affect the outermost layer of your skin and are marked by redness. Honey helps prevent infection, decrease swelling fast, and stimulates overall healing because it holds antibacterial and anti-inflammatory properties.
Take a little raw honey and spread it on a gauze bandage. Put the bandage on the burned skin and change it thrice a day. Repeat as needed.
9. Soften Chapped Lips
Supple and soft lips add to one's beauty. You can use honey to prevent or treat chapped and dry lips. Owing to its moisturizing ability, honey helps to prevent painful cracks by restoring lost moisture in the lips.
For this purpose, use a finger to apply some honey to the lips a couple of times daily. You can also prepare a lip scrub with honey and sugar in the ratio of 1:2. Mix these things well and gently scrub your lips with it for a few minutes. To enjoy flake-free lips, try using this lip scrub once a week.
10. Make Hands Soft
You can quickly treat dry and rough hands with the aid of honey. This ingredient helps to seal in moisture to keep the hands extra smooth and soft due to its humectant properties. Along with that, it prevents skin aging by combating free-radicals.
Get a little honey and rub it all over your hands. Rinse it off after 10-15 minutes. Then, apply a mild moisturizer to your hands. Follow this method every day to enjoy soft hands. Alternatively, mix equal quantities of glycerin and honey. Apply to your hands and leave it to dry naturally. Use lukewarm water to wash it off. For quick results, repeat the process daily.
Side Effects
For most people, honey is unlikely to lead to an allergic reaction. However, if you have any known allergy to celery, pollen or bee venom, you should use any of these treatments with caution. Allergic reactions to honey consist of hives, shortness of breath, inflammation of the tongue or lip, voice changes, and wheezing. Make sure you test any new product on a small area of your skin that is minimally visible to notice if you are allergic.
Before sleep, remove any honey from your skin. Honey left on your skin can appeal to dust and other debris that can aggravate an active breakout. Honey is an ideal ingredient to add to your skincare routine. Using it for skin overtime will ensure greater radiance and better skin health.
Author Bio: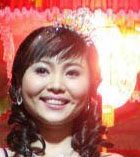 This guest post is by Emily Pham, a blogger with many years of experience in searching for the best natural home remedies for health and beauty issues. All content provided is for informational & educational purposes. We recommend you consult a healthcare professional to determine which method is appropriate for you.
End of 10 Science-Based Honey Benefits For Skin You Should Know. Back to "10 Easy Face Mask Recipes for Different Skin Types"