Honey Delivery in Singapore
Bee Healthy provides honey delivery to homes and offices in Singapore. Some of you have requested to visit us to physically browse our full honey range and purchase honey on the spot. Sorry, we do not have a retail shopfront (this explains the significant savings you get).
Home and Office Deliveries (Within Singapore):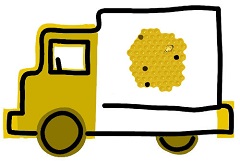 1) Choose "Delivery" when checking out your items in the shopping cart.
2) Double-check that "delivery address" provided is correct.
3) Delivery fee is waived for all orders $100 and above. All orders above $300 enjoy a 5% discount.
4) Your orders are processed and couriered to you in 1-2 working days. During busier times of the year (e.g. Chinese New Year, Hari Raya, Christmas, Mother's Day, Teacher's Day, etc), processing and delivery may take 2-3 business days.
If you have other questions regarding purchasing or delivery of honey, also feel free to contact us.
Eat to your good health,
Bee Healthy by Benefits of Honey
Visit our E-Store

End of "Honey Delivery". Back to "Buy Honey Online".