4 Great Reasons to Use Coconut Oil For Skin
"Coconut oil is loaded with good fats, able to fight microbes in the body and excellent for cooking, but to apply it on the skin…?"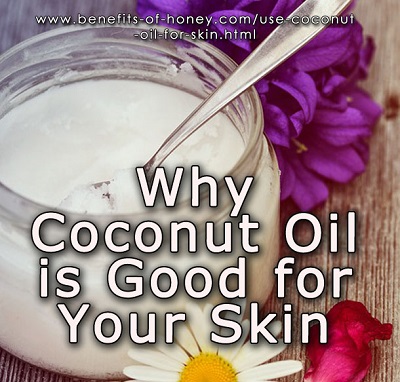 "How can this oily stuff be good for my skin?"
While the idea of applying coconut oil to your face may seem intimidating to many and even counter-intuitive, coconut oil has become one of the most popular ingredients in honey facial masks for cleaning, moisturizing, caring for the face and even treating acne.
1. Versatile Natural Oil for Different Skin Types
Organic, unrefined coconut oil is the best coconut oil for skin care because it contains all the naturally occurring phytonutrients and polyphenols which are suitable for most skin types. Look for coconut oils described as "virgin," "cold pressed," or "raw."
2. Penetrates Deeply Into Skin
Coconut oil is able to penetrate the skin on a deeper level than the average oil product because of its low molecular weight and the way it bonds with proteins. It is a great face cleanser and a make-up remover as it contains fatty acids – capric, caprylic and lauric acid which possess both disinfectant and antimicrobial properties, helping to protect against as well as heal microbial infections.
3. Effectively Restores Dry Skin
Coconut oil is one of the best remedies for rough and flaky skin and dry, cracked lips (Dermatitis). Rub coconut oil in hands to warm it up and apply on the skin. Coconut oil helps restores the lipid barrier and reduces water loss for rough, dry or flaky skin. Get rid of dead skin cells by mixing coconut oil with coconut sugar and use it as a facial scrub to smoothen skin.
4. Heals Troubled Skin
Coconut oil helps to exfoliate skin, dissolves the oil that has hardened on your skin with impurities and clogged your pores. Lauric acid, the predominant medium-chain fatty acid found in abundance in coconut oil, has proven antibacterial, antiviral, antifungal, and anti-inflammatory benefits (Natural Medicine Journal). It is found to be 15 times more effective at inhibiting Propionibacterium acnes, a skin bacteria growth associated with acne, than benzoyl peroxide (BPO), a popular topical antibiotic medication for acne (Healthy Oils by Goldstein M.D., 2014).
Moreover, unlike benzoyl peroxide, lauric acid is free of side effects such as redness, burning, irritation, and peeling. Studies have also found coconut oil effectively reduces inflammation and swelling associated with acne because of its anti-inflammatory properties. For those who suffer from eczema or psoriasis, studies show coconut oil can improve skin hydration and lipid barrier function, and reduce skin infections.
CAUTION FOR OILY SKIN: If your skin is producing excessive oil, take a few steps back. Coconut oil may not be suitable as it is comedogenic and could clog your pores. It could even worsen acne-troubled skin.
Instructions for Coconut Oil and Honey Face Mask
1. After cleansing your face, pat your face dry.
2. Prepare a teaspoon of coconut oil and a teaspoon of honey.
3. Apply the mixture on your face with your fingers using small circular strokes.
4. Leave mask on for 15 minutes.
Note: Honey contains varying concentrations of polyphenols, which are powerful antioxidants that counteract the effects of free radicals, and can help repair damaged tissue. It is also source of alpha hydroxyl acids, a gentle chemical exfoliator that reveals the layer of newer, smoother skin cells underneath.
Other Related Pages on How to Use Coconut Oil for Skin:
1. Check out these awesome honey and coconut-oil masks: Honey and Coconut Oil Benefits for Hair and Skin.
2. Learn how to make the easiest DIY lip balm and hand salve in minutes: Coconut Beeswax Lip balm Recipe.
End of "4 Great Reasons to Use Coconut Oil For Skin". Go to "Natural Skin Care"