Effective Wart Treatment with 1 Natural Ingredient From the Kitchen – Honey
Early this month, my ten-year-old daughter showed me her big toe on her left foot. There were three black dots. According to her, they had been there for a while and had been growing bigger in size. She looked worried and wondered if they were of any concern. I didn't know what they were and assumed they were corns until we visited the pharmacist who said they were actually warts. A medication called Collomack was prescribed. It was basically a lotion containing Salicylic acid which was supposed to cause shedding of the outer layer of skin and the warts to gradually peel off.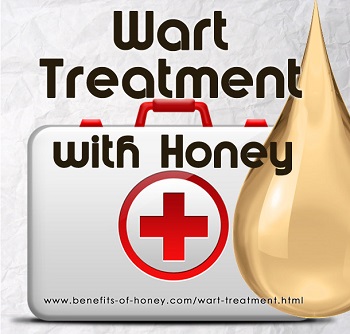 While heading for the cashier to make payment for the lotion, I remembered many years ago, someone posted at Benefits of Honey and shared her experience with removing warts with honey. The details were already hazy in my mind, but I clearly remembered it was a miraculous healing of warts with honey. It was one of those postings that wowed and inspired me a great deal and made me believe in honey as a superb natural cure for a myriad of skin problems and bodily ailments.
Curious, I asked the pharmacist if he had ever heard of honey as a folk remedy. He was quick to say no and added that warts were not as easy to remove as I thought and that it would be impossible for honey to work as a wart treatment. He also advised that if after trying the Collomack medication and it didn't work, the warts would then have to be removed by a doctor using freezing cold liquid nitrogen. My daughter said earnestly that she was keen to give honey a try before considering the Collomack option. (The description of the liquid nitrogen treatment had probably scared her to the core.)
Before my daughter went to bed that night, I placed a tiny drop of honey on a cotton patch, applied the honey patch on the warts and then used a plaster to secure it on her toe and leave it overnight. Now guess what…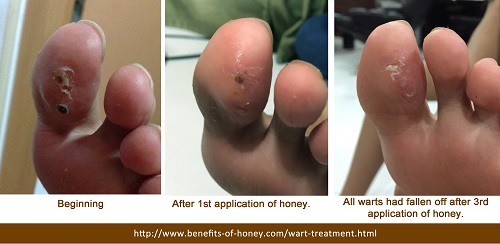 With just three applications of honey in less than a week, all the warts had fallen off and were gone!
Yet and again, honey has proven to be a miracle cure!
By Ruth Tan, Singapore (Updated 2021)
Postings on Wart Treatment with Honey
Post and Share your Experience in Treating Warts with Honey Here: Just Ask & Share Page

Ruth, Benefits of Honey 27/11/2015 @09:47:41
I don't remember specific reports from our visitors who have found success with honey for keloids. But I believe on the world wide web honey has also been commonly suggested as a remedy for keloids. We are naturally worried about repercussions and side effects of applying harsh chemicals to treat our skin. But honey is a such a gentle medicine on the skin, so I really think there's no harm giving it a try.
Foo Yin, Malayasia 26/11/2015 @04:26:02
Want to find out whether honey can be used to treat 'Keloids'. My daughter age 25 have several keloids on her body and according to medical advise, they may need to inject steroids to reduce it. Really appreciate if you could assist whichever possible.
Ruth, Benefits of Honey 26/11/2015 @19:40:21
The mention of nitrogen treatment actually freaked out my daughter, hence she was so quick to accept any other alternatives for the warts. The good thing about honey is that it doesn't cause any discomfort, it's an extremely gentle yet effective treatment. But the downside is, applying and wrapping a band aid with the honey can be a little messy.
Amy, United States 25/11/2015 @11:31:01
Not a question but, regarding using honey for warts- never heard of that one, but I did use apple cider vinegar- soak a cotton ball with it, put it on it, then wrap a band aid around it and leave it on for the night. There is some slight discomfort (so you know it's working). I did this for several nights, each day it was more dried up. Within a week it was a scab, and never returned!! Note- this was after going to the dr. who used the nitrogen, and charged $200 and guess what, it came back!!

End of "Effective Wart Treatment with 1 Natural Ingredient From the Kitchen – Honey" Back to "Back to Honey Cure for Warts".