25 Bee Quotes That Set You Thinking About Life
I stumbled upon many beautiful bee quotes that will put on a smile on the face, nudge a nod of the head, or perhaps cause a little stir in the heart. And these are my favourites.
Some of these quotes are relatively lengthier, but the messages they carry deserved to be pondered and mused over.
Be inspired.

Bee Quotes
"Veiled in this fragile filigree of wax is the essence of sunshine, golden and limpid, tasting of grassy meadows, mountain wildflowers, lavishly blooming orange trees, or scrubby desert weeds. Honey, even more than wine, is a reflection of place. If the process of grape to glass is alchemy, then the trail from blossom to bottle is one of reflection. The nectar collected by the bee is the spirit and sap of the plant, its sweetest juice. Honey is the flower transmuted, its scent and beauty transformed into aroma and taste."
~ Stephanie Rosenbaum
*********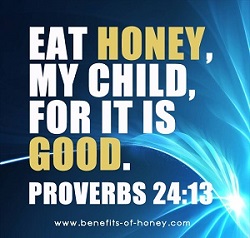 "It may seem odd that straight exposure to pollen often triggers allergies but that exposure to pollen in the honey usually has the opposite effect…In honey the allergens are delivered in small, manageable doses and the effect over time is very much like that from undergoing a whole series of allergy immunology injections."
~Thomas Leo Ogren, "Allergy-Free Gardening"
*********
"Concerning the generation of animals akin to them, as hornets and wasps, the facts in all cases are similar to a certain extent, but are devoid of the extraordinary features which characterize bees; this we should expect, for they have nothing divine about them as the bees have."
~ Aristotle 384 BC – 322 BC
*********
"Honey consumption (as compared to refined sugar or HFCS) leads directly to the formation of liver glycogen, thus stabilising blood sugar levels. Honey thereby reduces metabolic stress and improves fat metabolism and disposal, thus combating two of the key parameters of the metabolic syndrome, Type 2 Diabetes and obesity."
~Dr Ron Fessenden, The Honey Revolution
*********
"The slight regard at this time paid to the medicinal virtues of honey is an instance of neglect men shew to common objects, whatever their value; acting in contempt, as it were of the immediate hand of providence, which has in general made those things most frequent, which have the greatest uses; and for that reason, we seek from the remotest part of the world, medicines of harsh and violent operation for our relief in several disorders, under which we should never suffer, if we would use what the Bees collects for us at our doors."
~ John Hill, M.D (England 1759)
*********
"…every spoon of honey contains TINY quantities of these floral flavonoids…usually referred to as antioxidants. There are at least 16 of them found in honey at last count…Trace amounts of these floralflavones exert POWERFUL influences."
~The Honey Revolution, 2008 p.5
*********
"Eat honey, my child, for it is good."
~ Proverbs 24:13
*********
"The glob of precious honey that I had poured into my mouth at Ace's was the life's work of hundreds of bees, a unique floral ode collected from thousands of blossoms in a poetic foraging ritual…"
~ Holley Bishop, Robbing The Bees
*********
The pedigree of honey Does not concern the bee; A clover, any time, to him Is aristocracy.
~ Emily Dickinson
*********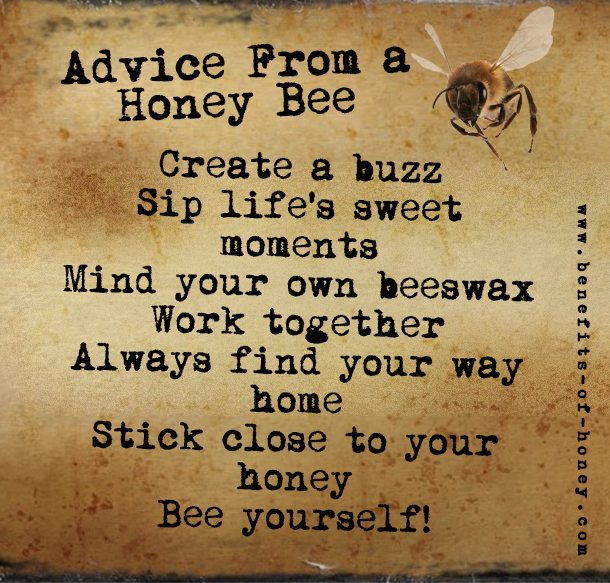 The men of experiment are like the ant, they only collect and use; the reasoners resemble spiders, who make cobwebs out of their own substance. But the bee takes the middle course, it gathers its material from the flowers of the garden and field, but transforms and digests it by a power of its own.
~ Francis Bacon
*********
Life is the flower for which love is the honey.
~ Victor Hugo
*********
For so work the honey-bees, creatures that by a rule in nature teach the act of order to a peopled kingdom.
~ William Shakespeare
*********
Tart words make no friends; a spoonful or honey will catch more flies than a gallon of vinegar.
~ Benjamin Franklin
*********
The careful insect 'midst his works I view,
Now from the flowers exhaust the fragrant dew,
With golden treasures load his little thighs,
And steer his distant journey through the skies.
~ John Gay, Rural Sports (canto I, l. 82)
*********
Therefore doth heaven divide
The state of man in divers functions,
Setting endeavor in continual motion;
To which is fixed as an aim or butt
Obedience; for so work the honeybees,
Creatures that by a rule in nature teach
The act of order to a peopled kingdom.
They have a king, and officers of sorts,
Where some like magistrates correct at home,
Others like merchants venture trade abroad,
Others like soldiers armed in their stings
Make boot upon the summer's velvet buds,
Which pillage they with merry march bring home
To the tent-royal of their emperor,
Who, busied in his majesties, surveys
The singing masons building roofs of gold,
The civil citizens kneading up the honey,
The poor mechanic porters crowding in
Their heavy burdens at his narrow gate,
The sad-eyed justice with his surly hum
Delivering o'er to executors pale
The lazy yawning drone.
~ William Shakespeare, The Life of King Henry the Fifth (Canterbury at I, ii)
*********
Bees work for man, and yet they never bruise
Their Master's flower, but leave it having done,
As fair as ever and as fit to use;
So both the flower doth stay and honey run.
~ George Herbert, The Church-Providence
*********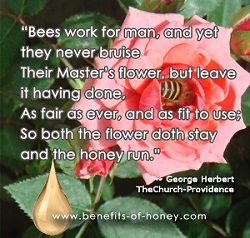 Nobody around here had ever seen a lady beekeeper till her. She liked to tell everybody that women made the best beekeepers, 'cause they have a special ability built into them to love creatures that sting. It comes from years of loving children and husbands…
I hadn't been out to the hives before, so to start off she gave me a lesson in what she called 'bee yard etiquette'. She reminded me that the world was really one bee yard, and the same rules work fine in both places. Don't be afraid, as no life-loving bee wants to sting you. Still, don't be an idiot; wear long sleeves and pants. Don't swat. Don't even think about swatting. If you feel angry, whistle. Anger agitates while whistling melts a bee's temper. Act like you know what you're doing, even if you don't. Above all, send the bees love. Every little thing wants to be loved….
Bees have a secret life we don't know about.
~ Sue Monk Kidd, The Secret Life of Bees
*********
How doth the little busy bee
Improve each shining hour,
And gather honey all the day
From every opening flower.
~ Isaac Watts, Against Idleness
*********
The men of experiment are like the ant; they only collect and use. But the bee…gathers its materials from the flowers of the garden and of the field, but transforms and digests it by a power of its own."
~ Leonardo da Vinci
*********
The sweetest honey
Is loathsome in his own deliciousness
And in the taste confounds the appetite.
~ William Shakespeare (1564-1616) 'Romeo and Juliet'
*********
It takes a bee to get the honey out.
~ Arthur Guiterman
*********
The busy bee has no time for sorrow.
~ William Blake
*********
The only reason for making a buzzing-noise that I know of is because you're a bee…The only reason for being a bee that I know of is making honey….and the only reason for making honey is so I can eat it.
~ Winnie the Pooh in A.A. Milne's 'The House at Pooh Corner'
*********
Fame is a bee. It has a song. It has a sting. Ah, too, it has a wing.
~ Emily Dickinson
*********
The happiness of the bee and the dolphin is to exist. For man it is to know that and to wonder at it.
~ Jacques Yves Cousteau

End of "25 Bee Quotes That Set You Thinking About Life" Back to "Did Albert Einstein Ever Link Doom of Human Race to Bees?"