benefits of drinking honey water
8 Big Benefits of Drinking Honey Water
By Nichelle Lucero
Taking honey water is incredibly flavorful. But in addition to the irresistible sweetness, it also has tons of health benefits. By adding some honey to your filtered water, you could reap benefits you otherwise wouldn't with simply honey. We have compiled a comprehensive list of health benefits of drinking honey water.
1. Aids in Weight Loss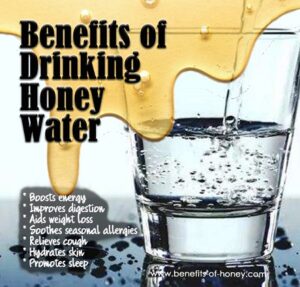 If you are looking to shed a few pounds, consuming a glass full of honey water could be a step in that direction. According to some studies, increasing your water intake could boost your metabolism. You also tend to feel fuller. By adding honey, you boost the fat-burning ability of water.
For optimal results, consider taking honey water on an empty stomach right after you wake up. However be sure not to add excess honey into your water, as it would increase the calorific value. Also, ensure that the water is as clean as possible, something you can achieve when you choose the best water filter.
2. An Energy Boost
A cup of warm honey water could keep you energized for hours. Water on its own keeps you hydrated, which in turn boosts your energy. Additionally, honey is a rich source of simple sugars and carbohydrates (especially raw sugar). Therefore, a mixture of both would greatly boost your energy levels.
3. Getting Rid of an Irritating Cough
Sometimes, especially during winter, you can't help contracting a cough. Anyone else apart from infants can use honey water as a remedy for an irritating cough. For best results, be sure to sip your honey water slowly.
4. Improved Digestion
Since time immemorial, honey is known for improving digestion, and so is warm water. Therefore, a combination of both would work better than simply honey. You could use honey water to manage a stomach upset. Besides, you could also consume some before meals, especially if you are eating foods known for aggravating stomach problems.
Notably, irregular bowel movement is responsible for a significant percentage of digestive issues. By taking honey water, you could fix the problem and enjoy better overall health.
5. Skincare Benefits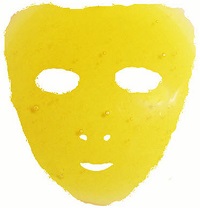 Honey possesses incredible skin benefits. Even better, mixing it with drinking water keeps your skin hydrated and glowing at all times. Besides, the combination flushes out toxins, making your skin look radiant.
Besides glowing skin, the mixture could help you with acne and blemishes given the anti-inflammatory properties. In addition, since honey also contains antibacterial properties, the mixture helps stop the spread of bacteria, which could increase the possibility of an infection.
6. Soothing Allergies
Honey may not be a cure for seasonal allergies, however, when you mix it with your drinking water, the mixture could soothe your symptoms. Besides, taking honey water regularly makes you less susceptible to several allergens, thus reducing the probability of you showing allergy symptoms altogether.
7. Improves Sleep Quality
Being a sweet mixture, people across all ages enjoy it. Furthermore, recent research shows that honey water improves the quality of sleep, especially among kids. With better sleeping patterns, the healing process for ailments is significantly accelerated.
8. A Natural Diuretic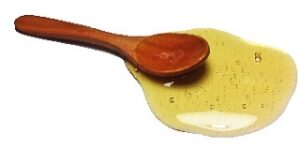 If your body accumulates too much fluid, you could be facing the risk of high blood pressure, which in turn sets you up for heart problems. By drinking honey water, you can help your body get rid of excess water. When you lose the excess water through urination, your blood pressure can drop to normal.
Demystifying Myths
There are so many myths surrounding the safest way to take honey water. For instance, some people believe it is not safe to mix honey with hot or warm water. However, the practice poses no serious health effects. However, refrain from using boiling water, as such high temperatures could alter the overall composition of the honey.
There is also a wave of uncertainty regarding how often to consumer honey is too often. Basically, there are no proven negative health effects of taking honey water every day. However, consider some moderation, especially if you have diabetes.
The Bottom Line
Honey has been known as a home remedy for centuries. But you can take the experience a notch higher by discovering the benefits of drinking honey water. For best results, ensure that you are consuming raw honey.
About the Author: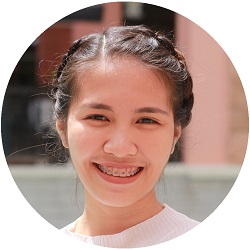 Nichelle Lucero is a lifestyle writer. She loves sharing her ideas and personal experiences related to through her writing. She currently writes for her personal blog – Lifewithkrich.com. Her favorite pastime is working out and reading books together with her cats, Chloe, Milo and Nocco.
Other Related Pages on Benefits of Drinking Honey Water
1. Do you know that honey can help you lose those pounds? Why and How to Use Honey for Weight Loss.
2. Take up this challenge – drink honey water morning and night as a daily regimen for three months and see the positive effects on your health. Check out: Honey Water Challenge.
3. Have you tried a 3-day fast with honey before? More in: My First 3-Day Fast with Honey (6 Days of Wins and Woes).
4. Eating honey before, during and after workout can have great benefits on both your energy levels and recovery times. Learn more in: Honey Energy Drink.
5. How much water should you drink a day? Read: How much water should you drink a day? (Use This Formula).
End of "8 Big Benefits of Drinking Honey Water". Back to "My First 3-Day Fast with Honey (6 Days of Wins and Woes)"