buckwheat honey baked beans recipe
Gluten-Free Buckwheat Honey Baked Beans Recipe
By Mary Ross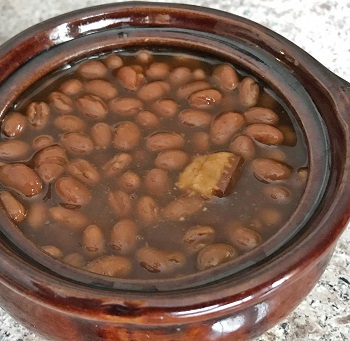 American baked beans are typically stewed in a tomato, molasses or brown sugar sauce and seasoned with salt pork or bacon. Canadian style baked beans often use maple syrup instead of molasses. This recipe is a hybrid of American and Canadian style baked beans with a twist; using maple sugar and buckwheat honey instead of molasses.
You can use just about any type of beans for baked beans but soft skinned beans with a creamy texture, such as navy, great northern, yellow eye, butter, kidney or pinto beans are preferable. These beans are naturally gluten-free. They're also a good source of fiber, protein and vitamins for those on a gluten-free diet.
About this Buckwheat Honey Baked Beans Recipe
Yield: 6 Servings
Prep Time: 15 minutes
Cook Time: 1 hour 15 minutes
Total Time: 1 hour 30 minutes
Ingredients
¼ pound bacon diced
1 small onion chopped
1 clove garlic minced
2 – (15 oz.) cans of beans drained and rinsed
1/3 cup maple sugar
½ cup ketchup
2 tablespoons buckwheat honey
¼ teaspoon coarse ground black pepper
½ tablespoon Worcestershire sauce
½ tablespoon yellow mustard
½ teaspoon hot sauce (your favorite brand)
Instructions
1. Preheat oven to 375 degrees.
2. In a cast iron skillet or Dutch oven, cook the diced bacon in the oven or in frying pan on top of the stove.
3. Remove the bacon; pour off some of the grease leaving enough to lightly brown the diced onion.
4. Add the garlic and cook and until golden brown (about 30 seconds).
5. Combine the bacon, onions, garlic, buckwheat honey, beans, maple sugar and remaining ingredients in a bowl; mix well and pour into whatever you will be using (Dutch oven, bean pot, glass or ceramic casserole dish) to bake them in.
6. Cover (use foil if your dish does not have a lid) and bake for about one hour.
7. Remove the foil or lid and bake for another 10 minutes until the edges start to darken and the top caramelizes a little.
About the Author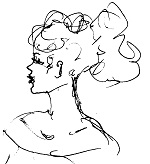 Mary tries her best (everybody cheats once in a while :)) to live a natural and healthy lifestyle, of which she is an advocate. She loves writing about subjects she has an interest in and hopes to inspire others by doing so.
End of "Gluten-Free Buckwheat Honey Baked Beans Recipe". Back to "8 Mouthwatering Honey Recipes".