8 Mouthwatering Honey Recipes
There are abundant honey recipes out there (National Honey Board Recipes). Honey is such a versatile ingredient in cooking and has such a distinctive flavour that it brings a magical touch to almost all foods -- cakes, pastries, homemade cookies, barbecue meats, desserts, puddings, salad dressing, etc.
Different countries and cultures use honey differently in their food and cooking. In western countries, people seem to use more honey as a spread in their bread and have plenty of honey recipes for baking, whereas people in eastern countries seem to do less of that and mostly prefer to go for just a refreshing chilled honey drink - honey mixed with icy water. Generally, the younger generations do not seem to appreciate the benefits of honey as much as the older folks.
Start using honey in your meals straightaway: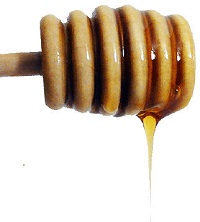 1. As a drizzle for desserts such as pudding, pancakes, ice-cream, oats and corn flakes.
2. As a sweetener for your tea, coffee, or smoothie recipes.
3. As a seasoning for barbecue spare ribs, pork chops or chicken wings before cooking.
4. As a salad dressing with olive oil and vinegar for the extra body.
Never miss these 8 all-time favourites: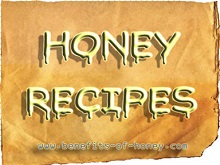 6. Honey Chinese BBQ Pork -- Bak Kwa
A favourite premium gifting item amongst the Chinese in Singapore during the Chinese Lunar New Year Festival. A delightful, tasty, chewy treat for all, especially the kids!

7. Peking Duck Recipe
Once created and crafted exclusively for the emperor and prepared only in the royal kitchens, the legendary Beijing Duck is now served in thousands of Chinese restaurants around the world and is one of the most popular and well-known dishes in Asia.

8. Honey Pecan Pie
Are you a fan of pecan pies? This yummy honey pecan pie might just be what you are looking for.
Try Ruth's Honey Recipes
I have personally concocted some unique but easy recipes using honey. Try them today!- "Get a Honey Recipe from Ruth"
Get a Free e-book
Like a mouth-watering sweet and sour recipe? Get my e-book "Sweet and Sour Recipes, Summer Honey Delights"!
Honey Balsamic Salad Recipe
Grab Chef Jono's gorgeous, healthy gourmet salad recipe using honey and pomegranate balsamic dressing.
Resource on Baking with Honey
If you are trying to cut down table sugar in your diet and looking for honey recipes, check out Carrie Davis' The Naturally Sweet Baker (click on the image) which is filled with easy-to-follow recipes that replace granulated, refined white and brown sugars in baking with natural sweeteners like honey and maple syrup. Listen to these recipes: Aunt Josephine's Chocolate Cake, Chocolate Brownie Espresso Chip Cookies, Cinnamon Pecan Sticky Buns, Devil's Food Cake with Italian Meringue Chocolate Buttercream, Black Raspberry Ripple Ice Cream, and Banana Chocolate Crepes, Jelly Doughnuts Peach-Raspberry Cobbler. In her cookbook, author Carrie Davis proves that using honey will result in some very surprisingly sweet, indulgingly tasty, and fun desserts.
Tips on Cooking with Honey
1) For a healthier alternative in cooking, choose honey over sugar. Get tips on Cooking with Honey.
2) Always have trouble deciding what meals to make for your family? Get some great ideas and recipes on healthy, quick meals from healthy-quick-meals.com!
Uses of Honey Varieties in Cooking
It's good to know that honey can be a great substitute for table sugar, but which type of honey variety would be most ideal for which type of foods? Find out more about the uses of honey varieties in cooking.
Special Honey, Herbs, and Plants Concoctions
1) The Perfect Match of Tea and Honey.
2) Ginseng Honey - An Energy and Health Boosting Drink.
3) The Benefit of Wheatgrass.
4) The Tongkat Ali the Wonder Root.
End of "8 Mouthwatering Honey Recipes". Back to "Cooking with Honey: Useful Facts and Tips".