Awesome Honey Pecan Pie Recipe
Are you a fan of pecan pies?
This honey pecan pie recipe might just be what you are looking for. It was put up after Jenny Farris, a honey fan (also a great pecan enthusiast) from Lake Charles, La., tried it and gave a big thumbs-up for it. The picture was also taken and supplied by her!
Listing down the ingredients already makes me drool...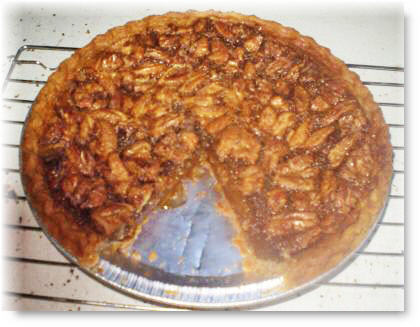 Ingredients:
0.25 lb butter (this is about 115g)
1 Cup sugar
3 beaten eggs
Half Cup Karo syrup
Half Cup honey
1 tsp vanilla
1 tsp lemon juice
1-2 cups of chopped or whole pecans (as you prefer)
1 pinch cinnamon
1 pinch nutmeg (optional, for a more exotic aroma)
9-inch uncooked pie shell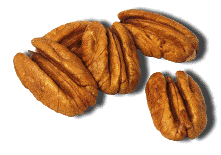 Instructions:
• Preheat oven to 325 degree Fahrenheit (or 160 degree Celsius).
• In a heavy-bottomed sauce pan, brown butter over medium high heat to get a nice nutty aroma for the pie. Be careful not to burn it. Remove and allow to cool slightly.
• In a large mixing bowl, combine sugar, eggs, syrup and honey. Using a wire whisk, blend all ingredients well.
• Add the brown butter, lemon juice, vanilla and pecans. Season with cinnamon and nutmeg. Continue to whip until all ingredients are well blended.
• Pour into pie shell and bake on center rack of oven for 45 minutes to an hour.
• Remove and allow to cool .
Another Pecan Pie Recipe?
Here's another Jenny Farris' recipe: Scrumptious Pecan Pumpkin Pie Recipe. This time with not just pecan, but also pumpkin and coconut!
End of "Awesome Honey Pumpkin Pecan Pie Recipe". Back to "Mouthwatering Honey Recipes".