Hello Ruth, thank you for your wonderful page and sorry for my weak English. I am a beekeeper in Germany. We have all the support of government and public oppinion. Many schools teach bee keeping. Everybody in Germany knows that we need more beekeepers and more bee colonies in our country to keep our invironment up. I was shocked reading about the situation in Singapore. I am married to a Singaporian and we were debating mooving to Singapore in a couple of years after I finish work. But I do not want to live without bees! I think changing public oppinion is more helpfull than a few half illigeal hives in some backyards. If I lived in Singapore I would try to come together with people who are interested in this item and try to launch activities in order to create support first of all among scientists then in the media and in public. I am convinced that there are many good reasons to support bee keeping in Singapore and not a single one against it.
Andreas, Germany
11 August, 2017
Ruth: Very happy to read your posting, Andreas! Greetings from Singapore! I hope your other Singaporean half wins the debate because Singapore is still wonderful without the bees. We desperately need activists who are keen on pushing beekeeping forward in Singapore. The bee lovers here would love to have you!
I love to keep bees naturally. I can get my very own honey, but I like to have a 2 or hives outside my house, so the bees can sting the damn neighbours dogs. too many of them.
Sofyan, Singapore
12 August, 2016
Hello Ruth, I am a Singaporean living in Belgium for more than 15 years now. I have just started this amazing hobby of beekeeping one year ago. Right now I have one hive in the garden and I have plan for a second hive. Yesterday, a fellow beekeeper asked me if there are beekeeping activities in Singapore too, which lead me to google about beekeeping in my home country. I read your posts from several years ago, it's indeed sad to read that honeybees are treated like pests in Singapore. I can of course understand the fear most people have regarding bees. Four weeks ago, the old queen bee from my hive left the colony with a swarm of workers with her. The sound and sight of the swarm in the air was enough to scare my next door neighbour, eventhough it lasted not more than 10 minutes. Thankfully my neighbour didn't make any trouble about it. And I hope a jar of honey from the spring harvest will sweeten the relationship. Other neighbours are aware of the honey bees in my garden and the reactions I received are positive so far. I think public education about the benefits of the honey bees is important. In Belgium, there are even TV celebraties showing off their beekeeping hobby. I think this helps a bit with the general public's acceptence of honey bees. Of course, losing a swarm of bees is not a pleasant experience and I shall do my utmost to prevent a new swarm in the future. Don't wish to test too much the tolerance of my neighbours. I wonder how it's like for the honey bees in a tropical country like Singapore. I am sure that I shall keep an alert eye looking at flowers in the open the next time I am back in Singapore. Maybe I will spot a honey bee or two.
Greetings,
Cheng
Hwee Cheng, Belgium
2 June, 2016
Ruth: Hi Hwee Cheng, greetings from Singapore! Very interesting to know that TV celebrities in Belgium are helping to promote beekeeping!
Fear of insects is often irrational. Most people naturally shun them or become annoyed when they see insects darting around them, even if they don't sting. Due to the fact that bees can sting and make an agressive buzzing noise, a lot more fear is generated when they are sighted. I can imagine how your neighbours feel about the bees swarming in the air. And in Singapore where housing is so closely clustered, people who are found keeping bees can be easily seen as being inconsiderate and anti-social. And public education about the importance of bees as pollinators is highly challenging when people here consume only imported fruits and vegetables. With no farming and crop planting around us, it will take extra effort for people here to appreciate the bees and what they do. I feel that the issue is not so much about how willing we are to accept the bees as part of our environment. To begin with, we don't have the kind of environment and the mind-set to mull over nature and the need to protect nature. We may have a world-class zoo and bird park here, but other than cockroaches, lizards and mosquitoes, most insects, including bees are rather rare topics in our conversations here. However, yes I do hope when you are back in Singapore again, you would be able to spot a bee or two in some parts of the country. That would be delightful.
Hi Ruth, I'm from Malaysia and we have stingless bees here...and they exist in Singapore as well! In Malaysia stingless bee honey is called ' madu kelulut' and its said to be more medicinal than the common honey. I live in an apartment close to a small mountain range ( used to be more but all developed now) and had a chance visit by one of these stingless bees...it was buzzing around my basil plant flowers and I was just smitten and amazed by the little fellow! Love at first sight! Now im trying to get a hive of my own, in my apartment. Why dont u start researching on stingless bees as well? Lots of articles from malaysia and australia ( there known as Native stingless bees)... its definitely a more viable beekeeping idea since the bees cannot sting?:)
Sal, Malaysia
1 June, 2016
Ruth: Thanks for writing! Yes, have been reading up on the stingless bees in Malaysia and Australia, and exploring the idea of keeping my own hive. Good for you, Sal, you have a mountain range near your home. Even if I could get my hands on the bees to start something, I am wondering if the bees would starve to death due to the lack of trees and plants around my place. I may have to end up doing a lot of my own planting for the bees. The honey from stingless bees is indeed more medicinal compared to the regular honey, but the amount of honey these stingless bees produce is very tiny. Perhaps that's why there is hardly any commercial stingless bees beekeeper around. All the best in getting your hive started and would be delighted to see pictures of your stingless bees (they are cute!)!
You may be interested to read this article: Stingless Bees are an Eye Opener
Hello, I came across your website and had such a good read. I have been trying to find Beeswax supplier for my candle project just to realised that Bees are not very loved in this country. I really hope they bring bees back as it is so important. My Beeswax are currently sourced in the states and New Zealand. Would have loved it if it was local :) If anyone know any. Please let me know!! :)
Bela Soares, Singapore
1 April, 2016
Ruth: Hi Bela, yup, there are no bees, no honey, and no beeswax in Singapore. I believe there is a handful of private individuals keeping bees on the hush-hush. But I doubt anyone is selling honey and beeswax in a commercial way in view of the regulations here.
Hi to all of you! I am also a beekeeper from Philippines. For me Bees are ancient Human Keeper on behalf of us. The truth that we did not realize is they are not just only an insect, without them the world will be lifeless.
Joe, Philippines
30 Nov, 2015
Hi Ruth,
Thanks for sharing so much about Bees... I'm also interested to be a bee farmer but I think it won't happen back here in SG. But nevertheless, if you need manpower to promote or conduct any talks to the publics, I would like to help out to push for more awareness to our people. Praying hard this day will come. (Hope to be a bee farmer!!!) Cheers!!
Thomas, Singapore
4 Nov, 2015
Ruth: Hello Thomas, Singapore probably would look very different with the bees and beekeepers!
Dear guys, my partner and I have started a social enterprise, Pollen Nation. Pollen Nation is a movement of volunteers that carries out Conservation and Education of the Urban Bee in Singapore. We conduct educational talks, BeeVacuation services, hive/swarm relocation & Urban Apiculture. We want to raise awareness of the Symbiotic Relationship of Flowers and Pollinators in our Urban Environment. Do like us on facebook and check us out at www.pollennation.sg
B>Elric Tan, Singapore
29 Mar, 2015
Ruth: Congratulations guys! I will definitely contact you if I spot a swarm that needs a new home. But I wonder if I would ever find one here. The bees in Singapore seem to have all disappeared!
I would personally love to be a bee-keeper. If someone starts this, I would want to get employed for sure!
Xaven, Singapore
21 Feb, 2015
Potential beekeepers might be interested in this. http://www.honeyflow.com/
Candice, Singapore
15 Feb, 2015
Ruth: Thanks for the link, Candice! Totally unbelievable! Never thought it was possible! I so wish that bees can be made easily available for us here in Singapore to see this hive work in our homes.
Hi Ruth, I am amazed and disappointed that Bee Keeping is not a big thing in Singapore. I know there are Bee Keepers in Singapore, we are everywhere ;-) can you refer me to one that sells hives. I am living in Bali and I have a swarm in my yard [been there for 12 months] living in a Statue. Time to give them a home.
Steve, Indonesia
29 Dec, 2014
Ruth: Sorry to disappoint you, Steve. I do not have any contacts of beekeepers who sell hives here. You probably would have a better chance of getting these things in Bali.
Hi, I am a Malaysian who stay in Singapore. Recently I read about some interesting information from a forum about beekeeping in Malaysia. I think it will be fantastic if we able to keep bees here.
But prior to that, I think we are lack of knowledge and practical experiences here. We need these to educate/convince the public and authorities to have a safe beekeeping in Singapore. Why don't we just start learning it from a nearby neighbor country Malaysia as travelling to learn there is not that far compare to other places/countries. If we able to form a group here, may be can have some trips to learn at there too. Just my opinion here to share.
CK Tan, Singapore
7 Nov 2014
Ruth: CK, thanks for sharing. My observation is those who are really interested in bees and beekeeping here have already travelled to Malaysia to explore them.
Dear Ruth,
You're facing a rather big problem but probably created by beekeepers themselves. If you see pictures of beekeepers they are always wearing protected clothes. My experience is that if you work without them, people get a more friendly sight of keeping bees and are even more enthusiastic when they taste real honey. I always have one colony in my garden and make sure they are not going to swarm. This is how I work with my bees (see the pictures). People passing by are more curious and are less afraid than when you wear all those protective clothes. So, in general beekeepers should work more without protective clothes to show other people that beekeeping is not as dangerous as it looks like.
Pieter, Netherlands
3 Oct 2014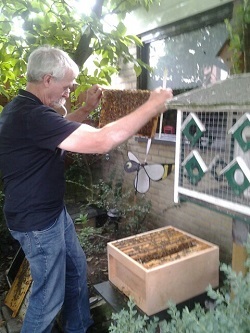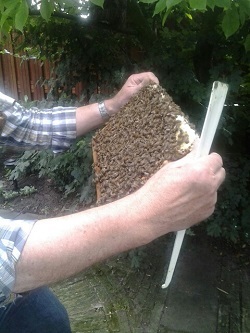 Ruth: Thanks for sharing, Pieter. Interesting perspective. I never thought of that. I always assume that the protective gear is an expected form of "dressing" for professional beekeepers.

Beekeeping is fascinating after watching from Youtube. But it's a daunting task to keep one in Singapore where everyone is afraid of stinging and also considering the scarcity of land and population density. And we are not taught nor seen here unless we live in England, US, New Zealand or Aussi. I hope to see a small enterprising group to start one where it's safe to keep and free from people complaining.

Michael, Singapore
19 July 2014

Hi Ruth, I like to know more about bee keeping. I hope that you can share more on the NEA and AVA reply. I like the idea of self produce honey. Drop me a reply.

Penelope Iris Yeo, Singapore
9 Jan 2014

Hi, this is a great website and I think the idea of bee-keeping in Sg is just wonderful. I am from Indonesia where we have some source of wild forest honey; but forest are getting less, we can't be sure anymore of wild forest honey. I love the idea of having fresh honey for my family. We have many parks in Sg, surely bees can help it grow more flowers. Let me know of any community action on bee-keeping in Sg, I would like to join. Cheers!

Philip, Singapore
1 Aug 2013

I am hoping that Singapore gov to be engaged in Bee keeping like other cities of the world. May be some neighbourhood gardening club can help out. Hope we can't meet up someday to discuss this.

Yen Chern, Singapore
20 July 2013

I happen to live in an apartment where the bees seem to really enjoy making their home in a crack in the roof. Would you happen to know any experienced beekeepers who would like to remove the hive and have them transplanted elsewhere?

The family would prefer the bees to be gone but I don't like the idea of having them fumigated. Any advice?

Nicole, Singapore
5 May 2013

Ruth: Hi Nicole, your suggestion has been explored before but so far, nobody has stepped out to volunteer this service yet. I'm afraid you'll still need to contact NEA. By the way, I've always been told that bees will not harm anybody unless provoked. But I understand these buzzing creatures can easily cause quite a commotion, especially among the young kids and elderly.

I stay in HDB flat. My dream is to have a hive of bees. I read and watched a lot online about bee keeping. The most interesting and practical bee keeping I have seen is from India where people in the village use pans, pots to keep hives! We can try. I have seen bees swamping nearby. One they went into a clothe bamboo-holder! How I wanted to lure them in my flat. Schools should start bee-keeping program. Bees are tame. I have close encounters with them in Vietnam and Sabah. They behave better than flies!

Ann, Singapore
12 December 2012

Ruth: Hello Ann, your very interesting note just got me excited on the topic again. Thanks! A beekeeper ever told me before that raising bees is like raising children, they all have different temperaments and behaviours can differ a lot, depending on various factors such as bee species, needs of the colony, weather conditions, etc. I guess the two main challenges related to beekeeping in Singapore are the fact that bees can sting and the public can be very resistant to the idea of having bees around them. Secondly, with the amount of fogging we have in the country, bees may find it difficult to survive here, and I'm afraid we also cannot rule out the possibility that the floral nectar collected by the bees may be contaminated.

Hi, I have just recently moved to Singapore and am very interested in keeping bees. I have been fascinated with them for some time and was inspired by urban bee keepers in New York and Japan.

If there is a way that I could be put in touch with any local keepers or enthusiasts in order to see them being kept first hand it would be appreciated. From the research I have done I understand that there are several species native to here and also a stingless kind, which may be more appealing to the locals.

What a wonderful site to stumble upon. Keep up the good work.

Cheers.

Jac, Singapore
2 December 2012

Ruth: Welcome to Singapore, Jac! For all these years, strangely I haven't met anyone who is keeping bees in Singapore. I've a strong feeling that these people like to remain "underground" as keeping bees can be a rather sensitive subject here in Singapore (I suppose the risk of their neighbors informing the authorities to take away the bees is pretty high). I'm still figuring how to get some enthusiasts to form a community. And when I'm able to do that, you will definitely be contacted. But meanwhile should you (as well as anyone out there) have good links to the schools, you may want to start exploring from there as keeping bees in the name of education may be one of the easiest avenues to get an activity of this nature going. Stingless bees are definitely an attractive option for schools to study the life and ways of the social insect! You may want to read my brief blog article on stingless bees here: Stingless Bees are an Eye Opener.

I have been thinking about this a long time too and thank goodness, there are others who are like-minded too!!! I always thought it is such an irony that singapore pride itself as a garden city but look closely at this garden city, you will realise soon enough there is something eerily wrong about this "garden". Yes, the flowers and greenery are all there, but there is an almost deathly absence of bees, butterflies and other insects! How very sad, its like a very sterile playground where no kids get their hands or feet dirtied! Its time Singaporeans grow up a little and start to experience life a little, warts and all. Stop all the ridiculous and senseless fogging everywhere especially reservoirs and gardens where insects are meant to exist... A few midget flies in the air and its time for chemical warfare..., its that how we co-exist with nature? I myself have a few unidentified bee/hornet that zips in and out of my balcony and I let them be, they belong to the world as much as us. Thank you for this blog! :)

Milton, Singapore
1 October 2012

Ruth: Thank you so much for writing, Milton. I believe our education system can start something somewhere. Too many kids now lead deprived lives that revolve around smartphones, media tablets, virtual friends and activities. How nice if they can learn from young that encountering nature can be meaningful, rewarding and even fun! Alongside the school's Robotic Club, Math Olympiad Club, Book Worm Club, IT Club as CCAs, can we have the Bird Sanctuary Team, Beekeeping Club, Bug Safari Club, Green Adventure Club, or the Root and Shoot Team...

I keep bees in Hong Kong, as do friends. My two hives are located close to my house. The Asian Apis Cerana bees are not aggressive. Many villages have behives in the midst of houses and there are no problems. When swarms occur the bees are not dangerous. You could have a problem in Singapore with the spraying that is done for mosquito control. This would be likely to poison bees as well. It would be nice to see that this hobby was accepted and encouraged in Singapore.

Colleen, Hong Kong
8 July 2012

Ruth: Thanks for stopping by, Colleen. What a great privilege to own your own hives! Totally agree that Apis Cerana bees are not aggressive at all. I had thousands of them buzzing around me for about an hour when I visited a beekeeper in Hong Kong recently and was never stung.

You may be interested in this post: In Search of Honey and Bees in Hong Kong.

Hello, i have a little informal bee hive outside my home. informal, because they came by their own, living in a crack in the wall in my hdb block outside my window.

I started off with antipathy with the bees simply because they would always fly into my home in the mornings (probably attracted to the light) and buzz around on the floor for me to step on especially when i'm half asleep.

Numerous calls to town council helps but actually doesn't really help since the bees seem to like the crack in the wall between my floor and the neighbour's below and in no time at all, i would get my morning visitors again. And so slowly, like all things, you get used to them (learning how to move around them), and like and treasure them.

Occasionally, i notice that the bees would fly in, can't find their way out, and seem (I have no idea) more disoriented than usual, spin around a few times and basically give up and start to twitch and then die. If you get to them in time, and take them back out to the window to let them out, they seem to revive, get their bearings and be able to fly out and do their own thing.

I tried doing some research on this, but the stuff i read about online about parasites, colony collapse, etc doesn't seem to apply.

Does anybody seem to know what that's all about, and what's happening to my little adopted bees? Are they just stressed?

Thanks!

Cheers

Mel, Singapore
11 May 2012

Ruth: Mel, what an interesting encounter with the bees! The bees like you (smiles). I've no idea why your adopted bees appear to be stressed and if it has anything to do with CCD, but what you've described seems to suggest that they might have been poisoned.

Dear Ruth,

As much as I think the restrictions on beekeeping are worth of a concern, what matters more is the avenue to educating people on how to be a beekeeper and how to manage a healthy colony.

I've been seeking information on beekeeping courses in singapore, but to no avail. (I'm considering that as a second career)

Are there any ways you are able to point me in the right directions? Could you share your experience with how you get started with learning beekeeping?

Thanks!

Ellis, Singapore
4 Apr 2012

Ruth: Ellis, I'm not sure if educating people on how to do beekeeping would matter more when there is so much concern and fear about having bees around and so little awareness about how precious bees are. It's interesting (because it's very rare) to meet people who are serious about beekeeping here. Are you a local here? By the way, I am not a beekeeper and have zero hands-on knowledge about beekeeping. To get closer to your goal related to beekeeping, my suggestion for you would be to first visit the bee farms in the neighbouring countries (for convenience reasons).

Hi Ruth,

Obviously Singapore's ban on beekeeping isn't working, otherwise there wouldn't be a need for those exterminations. As seen from a distance, it would seem obvious that it might as well be dispensed with.

Many places rely on volunteers from the hobbyist beekeepers to service the nuisance calls. It is no secret that most people are terrified of bees and rightly so, as they do sting! Most beekeepers, however, are responsible when it comes to placing hives in potentially sensitive locations... Please read continuation in: Keeping Bees in Singapore

John Smith, Australia
1 Mar 2012

Ruth: Your response to bees and honey is always ever so inspiring and uplifting. Thank you so much, John.

I think it's brilliant to start beekeeping in Singapore, for as long as it is organic and an honest product (no added sugar/sweeteners). Othewise, it wouldn't be too far different from the ones on our supermarket aisles and that consumers would probably still continue buying Australian/New zealand products. I for sure, would want to buy raw and fresh honey! Local honey would be so cool and there's no reason why we can't do, I mean no climate issues (apart from space) right?

A big yes we can from me!

Maria, Singapore
15 Feb 2012

Ruth: Space would not be a problem because beekeeping itself takes up very little space. I think the question is more of where the bees can forage and how we can be sure the nectar collected is free of chemicals, toxics and contaminants. It will be interesting to find out how the urban beekeepers do it. Another major concern is the public's fear of bees. Singapore has never been known to be an animal loving country, now with the bees, I am going to put my fingers crossed...

Sounds like a good idea to me, having bees in our own backyard. Why not?

Maggie, Singapore
13 Feb 2012

Ruth: Hi Maggie, your neighbours would probably complain big time about the bees :) It's going to take some education for the community to embrace the bees.

I will be interested should that ever happen. Thou don't know if it will be an issue to contain the hives in the farm itself.

I ever had to call in a pest control to destroy a very large bee hive in a airbase building before when i was still in the airforce, always lamented the lost of all that poisoned honey and comb...

Albert, Singapore
12 Feb 2012

Ruth: Albert, pest control companies at the moment seem to be the only resort for us to remove the hives around, because there are no beekeepers in Singapore to properly handle them. And we have to change the public's perception that bees are a public nuisance (due to the fear of being stung) through education.

It's a good idea as we will have an experience to see how honey is really formed by bees.

We have only read about how honey is formed. We will get the real idea if we can see it ourselves. Why not?

Mathina, Singapore
12 Feb 2012

Ruth: Totally agree, Mathina. I would love to see beekeeping going into the community one day.

It would be good to start this project if you have the technology or a designated space for beekeeping ,why not? :)

I think it would be more economical for producing own honey than to depend on external sources.

It comes across to me as a very interesting idea, although I don't know how to go about doing that. Definitely there will be people interested. Especially if you doing it for the benefits of the community!

Andrew, Singapore
12 Feb 2012

Ruth: Yes, Andrew, we need to know where in Singapore we can do this, but it's all about finding out how to go about doing it! :)

Aside from the fact that honey will equal gold should we ever lose bees entirely.

They pollinate that's the real fact we need to look at.

Without bees, we die.

They keep our Eco system balanced along with many others. But Bees are our very important supporters and our friends.

The world needs Bees.

Valerie, United States
12 Feb 2012

It's a fact that bees pollinate fruit trees and other plants. Traditionally they are in the wild taking nectar from wild flowers from varieties of trees. More research is needed to bring the bees to town. So let us not join the band wagon like other cities but invite more feedback and share experiences by those already breeding in urban cities. Education plays a lead role.

Niz, Singapore
12 Feb 2012

I didn't even know different honey has different taste until late last year. Only knew about beekeeping the last few months. I am not sure how many Singaporeans know about beekeeping. I think as a society, we are not ready. We do ...not know much about honey and beekeeping. So far I read from books, but personally would very much like to see how it is done. Yes, i am game to try but I wonder what my husband, kids and neighbours would think .... just a thought :)

Suriya, Singapore
15 Feb 2012

Ruth: When there is enough understanding of the vital role of bees in our food chain and environment, beekeeping will make sense. Motivation would be different for different people - beekeeping as a novelty past time, an intimate encounter with Nature, saving the bees, for honey production, benefits of eating local, etc.




End of "Keeping Bees in Singapore". Back to "Can We Have the Honey Bee Back, Please?"
---