Baking Bread With Honey
Start baking bread using this healthy recipe -- makes a loaf enough for 4 -5 adults and no bread machine and required! (Note: I had memorised and penned down all the verbal instructions on how to make this bread during a bread-making demonstration class which I attended with my sister. This is really something taught by an expert; "tried and tested"!)
Raisin Honey Bread Recipe
Ingredients:
50g plain flour (Plain flour can be replaced by ground oat bran which is a healthier choice but will result in more densely textured bread.)
220g bread flour
2 teaspoons instant dry yeast
10g milk powder
5g sea salt
1 tablespoon cream honey
30g butter
Half egg
125ml water
Half cup of raisins or dried cranberries, or mix the both
1 tablespoon olive oil for greasing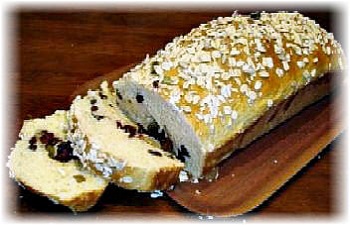 Glazing
Not only does this glaze gives a fantastic colour and texture for the loaf top, the crust it makes is simply awesome -- crunchy and aromatic!
Half an egg (just take the remaining half required for the dough)
1 tablespoon fresh milk
1/3 cup of muesli flakes or sesame seeds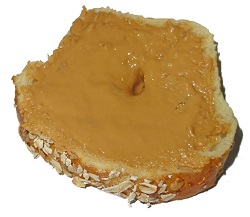 Directions:
Baking bread can actually be quite fun, and the process can even be addictive. Your one-time success will motivate you to go for the second, the second for the third, and so on.
Mix all ingredients in a big bowl and stir mixture into a dough. Spread some bread flour on the table (non-stick, e.g plastic, marble, etc) to prevent the dough from sticking and knead it with your fingers (gathering and folding the ends of the dough towards you and pushing it away and repeat the action again and again) for about 10 mins until its texture becomes soft and smooth (the instructor described it as "baby's bottom") and when the dough would spring back when lightly pressed with the finger. Form the dough into a ball and allow it to rise in room temperature (30C) for 30mins to 40mins until it's double the amount. (Dough rises best when it's round and smooth!)
Flatten the dough. Spread raisins/cranberries on the flattened dough, fold and roll it up. Grease the baking tin with olive oil. Rest the dough in the tin for about 30mins to 40mins (second rising) until they become twice as big.
Brush a layer of egg and milk glazing mixture over the top of the dough in the tin. (You can sprinkle muesli flakes or sesame seeds on top as well to make the crust even crunchier.) Bake in a pre-heated convection oven at 180C for 20mins. (No microwave oven, please.) Serve either hot or cool with butter or honey butter spread.
How to Measure Honey
Do you know how to measure honey for baking or cooking accurately without the unwanted sticky mess? Read How to Measure Honey Accurately.