Honey Bees for Kids – Great Teaching Resource
"Darling, honey is good for you" is a beautiful 28-page, full-colour book about honey bees and honey for kids 3 to 6 year-old. In our modern urban living environment, many kids are not able to trace back the origin of honey further than the stores. While some guess the sweet liquid comes from the factory, some say it must be from the bears. Too many of them are clueless about where it comes from.
Use this book to tell the children that the honey bees collect a golden liquid from the flowers and turn it into honey in their stomachs!
Specially written in a language simple enough for kids to be able to understand, this book contains pages explaining what honey is, where it comes from, how beekeepers collect honey, the goodness honey brings, and even a simple honey recipe for kids!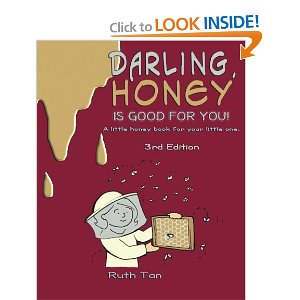 Now in its third edition, Darling, Honey is Good for You! is available in Amazon. To make a purchase, click on the book image above to go to the Amazon Store.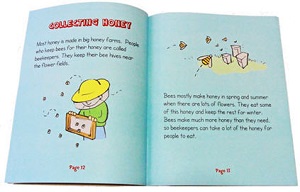 This honey bees for kids book has its beginnings in the electronic form. Today, it is available in physical form; it's been given a totally fresh look – its contents have been revised and improve its flow and clarity, and all the pictures in it have been replaced with more vibrant, attractive illustrations to make reading for children even more pleasurable.
Since mid 2006, this book on honey bees for kids has been read by hundreds of people from all over the world – United Kingdom, Australia, Zambia, Nigeria, United States, India, Singapore, and Saudi Arabia. Below are some of the commentaries received.

"This book is perfect for my needs. I am the leader of my grand daughter's Daisy Girl Scout Troop (K-1st graders). We are learning the GS Laws through a story about a flower garden, a friendly and helpful bee, and 3 young girls. The Daisy scouts are earning badges (including one of a smiling bee) as they learn how to care for plants, do service projects, and complete activities in their book. I've opted to expand their learning in areas of beekeeping, worm composting, and ladybugs role with plants. Your simple yet informative book is perfect for these Daisy Girl Scouts! Thanks for your time, creative efforts."
Cathy Jo Call, United States
"With one of my main characters in my TV show being Barnaby the Bizzy Buzzy Bee, I love collecting any information on bees and honey, and how different people portray this in a way that preschool children can relate to, and your book is a lovely example."
Jen Watts, Australia
"The book will be very useful to my class it provides information for a wide range of topics surrounding bees and honey allowing for many further activities to be used after. It is clear and colourful so very child friendly and easy to understand so there will be no confusion, all in all-a fantastic resource!"
Cheska Tyler, United Kingdom
"Matthew is 6 years old and is going to do his show and tell project on honey bees. This summer we found a wild honey bee nest in a tree on our farm, we have been watching it throughout the summer and a piece of the honey comb fell off which we have for his project, we think it is where they laid the eggs for the bees to hatch. Your book on honey bees for kids will be great for him to read to the class, also we got some cool facts from your web site…"
Judy Henry, Canada
"I've read through and I could say it's interesting, concise and quite educative. I'm sure my kids are going to enjoy reading the e-book too."
Kuye Olusegun, Nigeria
"I am a Principle/Manager of a pre-and primary school in the north of South Africa…. This is so cute, the kids will enjoy this just as much as I do."
Johannie Hanker, South Africa
"I'm in student teaching and I'm doing an activity on bees with my kindergarteners. This book will help a ton…and it's so cute!"
Jessica Daley, United States
"I plan to use it in some of our Beekeeping Presentations to Elementary Students. You did a fine job explaining the art of beekeeping in a simple and fun way for young children to understand. Thank you for sharing your talent with us!"
Melanie W., United States
"I am a beekeeper and was asked to teach the first grade classes in my children's school about bees. Your book has helped me put things on a level that the children can grasp and enjoy."
Ed Melott, United States
"I am currently teaching the children about how honey is made through explanation writing. Your booklet on honey bees for kids has simple enough language that will not confuss the children with technical vocabulary."
Lynette Burton, United Kingdom

Press Release for Darling, Honey is Good for You!
For reference, the announcement/press release for Darling, Honey is Good for You! is at http://www.benefits-of-honey.com/what-is-honey.html
Honey-Themed Resources for Children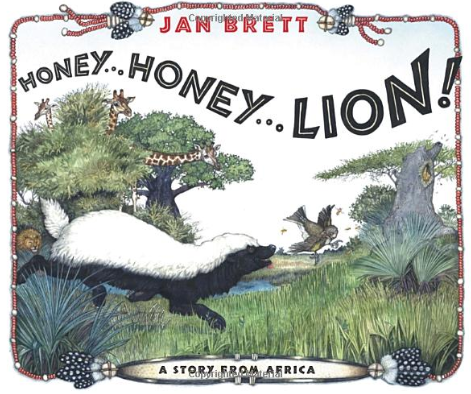 More resources on honey bees for kids… My husband found this book in the library while borrowing books for my 5-year old daughter and asked me if I was interested in it since it's honey-related. It has a title "Honey, Honey, Lion – A story from Africa" that makes you wonder what story it could enfold.
After reading it, I thought it has got quite an interesting story plot and a meaningful morale on the importance of sharing which children would be able to identify. It talks about how normally the honeyguide and the honey badger would work as a team in their search for honey and how one day the honeyguide hatches and executes a plan to teach the greedy honey badger a lesson when it gulps down all the honey found. Every page of the book is full of animal illustrations that would definitely keep young children interested – a good gift for young readers aged 4 to 5 years old.
More on Honey Bees for Kids…Catch a Little Bee Farm Movie With Your Little One
Pictures tell more than words. Sit back with your little one and catch this movie on a charming sanctuary where bees freely roam and fly from flower to flower collecting nectar. Point to your kid where the flowers are, the rows and rows of wooden hives, honeycomb, and all… in My Honeybee Farm Visit.
End of "Honey Bees for Kids – Great Teaching Resource". Back to "How do Bees Make Honey"