honey chinese bbq pork recipe
Yummy Honey Chinese BBQ Pork Recipe
If you have never visited Singapore, try this Honey Chinese BBQ Pork Recipe. It makes one of those tasty treats which I find so hard to resist and stop eating once I start – delicious Bak Kwa — an all time premium gift (cost about 40 Sing Dollars per kg) that any Chinese Singaporean would always welcome during the Chinese Lunar New Year celebrations. Also many kids' favourite because it's so fragrant, sweet, and chewy! This special food is also being discussed in Wikipedia. Click to read more.
I have specially picked the rose floral variety of honey for this BBQ pork as I find it goes perfect with its overall barbequed pork fragrance.
Ingredients:
• 1 kilogram lean pork
• Seasoning: 2 clove Garlic – blended/ground, 1/2 tsp. five spice powder, 1 1/2 tblsp. soy sauce, 1/2 tsp. pepper, 1 tsp. salt
• 1 tblsp margarine
• 4-5 tblsp rose honey
Instructions: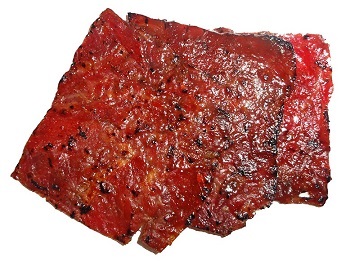 1. Slice pork thinly and knock each slices to tenderise it.
2. Add seasoning, place pork slices in a container, and leave it in the fridge for at least 5 hours to marinade.
3. Arrange thin pieces of pork onto a flat plate to dry.
4. When dry, cut pork slices into squares of about 10 cm.
5. Barbecue the square pork slices with burning charcoal until both sides are golden in colour.
6. Glaze the slices with honey from time to time.
7. Cooled barbecued slices can be stored in the refrigerator freezer for a few weeks.
Other Related Pages on Honey Chinese BBQ Pork Recipe
1. The legendary Peking Duck is is one of the most popular and well-known dishes in Asia: Honey Peking Duck Recipe
2. Who says you can't bake sponge cakes with honey. Try this fragrant cake: Spongy Pandan Cake Recipe
End of Yummy Honey Chinese BBQ Pork Recipe. Back to Honey Recipes