thai honey green mango salad recipe
Thai Honey Green Mango Salad Recipe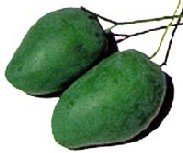 I concocted this Thai Honey Green Mango Salad Recipe when trying to replace sugar for clover honey in the Thai green mango appetizer. I also added some chopped green apples for better texture. Surprising, the result is wonderful — honey gives a more enhanced yet subtle fruity taste to the whole dish. Try my easy recipe.
Ingredients:
1 small green mango
Half a green apple
1 red chilli
3 lemon leaves
5 shallots
5-6 Thai basil leaves for garnish
2 tbsp dried shrimp
1 tbsp roasted peanuts
Dressing:
1 tbsp fish sauce
1 tbsp clover honey
1 tbsp lime juice
Method:
1. Skin and cut the mango into long strips. Chop green apple into fine cubes.
2. Remove seeds from chili and slice thinly.
3. Slice shallots thinly.
4. Wash and pound the dried shrimp finely. Fry it with a little oil until fragrant and dry.
5. Combine fish sauce, honey and lime juice.
6. Put all the ingredients into a large bowl, pour in the dressing.
7. Toss well and serve with basil leaves.
Other Related Pages on Thai Honey Green Mango Salad Recipe
1. Try some unique but easy recipes using honey: "Get a Honey Recipe from Ruth"
2. Honey is such a versatile ingredient in cooking that it brings a magical touch to all sorts of food: Get 8 Mouthwatering Honey Recipes
End of Thai Honey Green Mango Salad Recipe. Back to Honey Recipes.