uses of honey varieties in cooking
10 Creative Uses of Honey Varieties in Cooking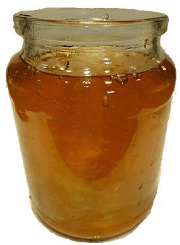 I notice that not many users of honey actually know about the different uses of honey varieties in cooking. While doing your grocery shopping, have you ever been caught in a situation when you don't know which honey floral variety you should get for that particular dish you wish to prepare for the day?
In other words, have you ever wondered about the uses of honey varieties in cooking; which honey variety goes best with what type of food? Or perhaps even, you have never had those concerns because in the first place, you actually don't know that there are as many as 3,000 different varieties of honey and their tastes can be so diverse – fruity and floral; herbal; spice; deep and earthy; and mild and overpowering.
Of course, choices and uses of honey varieties in cooking ultimately depend on personal tastes and preferences which can be rather subjective. But different honey varieties have great versatility in cooking and their own unique tastes which could influence the flavor of other foods substantially. This caused me to realize that honey's many flavor complexities really go beyond simple sweetness. Here is sharing with you a quick guide on uses of honey varieties in cooking which I use after exploring with the different honey varieties:
1. Coffee: The aroma of coffee can be strong and complex, hence not all floral varietals may be suitable. If you are particular about coffee, you probably would not pick a floral varietal of honey that would alter the taste of your coffee too much. How a monofloral varietal and coffee should be paired can be subjective, but Heather, Clover, and Leatherwood somehow are preferred by many.
2. Tea: Tea lovers like me often use Basswood, Alfalfa, Clover, Eucalyptus, and Leatherwood as sweeteners. Personally, I love that "sophisticated taste" of tea with Leatherwood, and I never seem to grow tired of it.
3. Baking/cakes, muffins, tarts, cookies: Leatherwood, Alfalfa, Orange Blossom are fine choices in baking due to their powerful floral scents.
4. Meat/Sauces: Chefs know very well the uses of honey varieties in cooking and Rewarewa, Fireweed, Buckwheat, Macadamia are often their favourites for preparing meat or sauces.
5. Fish: Stick to a lightly flavored honey such as Acacia so it does not compete with the seasonings of your dish. However, if you are making honey a key ingredient in your seasoning, you can consider a stronger honey like Leatherwood or Buckwheat which are very good for grilling.
6. Dessert: Basswood, Sourwood, Apple Blossom, Wildflower honey varietals are delightful sweeteners for desserts due to their floral scented aroma. However, do consider carefully when adding a strongly flavored honey into teas which also have very distinct taste as not everybody can accept the resultant effect, for instance, the combination of Manuka honey and Jasmine tea may not delight everybody's taste buds.
7. Cold Meat Dishes e.g ham, chicken, turkey: Heather and Rewarewa go well with the taste of meats.
8. Greek yoghurt and mild cheeses: Orange Blossom, Dandelion, Rata, Leatherwood, Manuka, Macademia are superb choices to pair with bland foods such as plain Greek yohurt, delicate goat cheese, and bean curd.
9. Toast Spread/Pancakes topping: Leatherwood, Beechwood, Rewarewa, Sourwood, Tawari, Tupelo, Basswood, and Fireweed complement and bring out the aroma of toasted foods.
10. Just Honey Drink: Manuka, Orange Blossom and Leatherwood are my recommendations simply because they taste so good and unique.
My Honey Recipes
Try my exotic honey recipes which I specially developed and cococted them for my family when exploring honey varieties in cooking:
1) Clover Honey:
Thai Honey Green Mango Salad Recipe
2) Fireweed/Rewarewa/Tawari Honey:
3) Macadamia Honey:
Exotic Grilled Honey Wings Recipe
Free Sweet and Sour Recipe eBook
Share with us you experience with honey and get a free copy of the fabulous Sweet and Sour Recipe ebook!
More Resources on Uses of Honey Varieties in Cooking
Look at the versatility of honey in cooking in "Honey: a Connoisseur's Guide with Recipes".
End of "10 Creative Uses of Honey Varieties in Cooking". Go Back to "Cooking with Honey"