Honey Drizzled Banana Ice-Cream
This is an all-natural banana ice-cream recipe. And the most wonderful thing about this recipe is, only two ingredients are required - bananas and honey. I was totally surprised by how creamy the bananas turned out to be and how much they tasted like ice-cream. And you will too!
Ingredients you will need:
3-4 very ripe bananas
1 spoon of honey
Directions:
1. Peel off the skin of the bananas and freeze them overnight.
2. Cut the frozen bananas into smaller pieces and use an electric blender to blend it.
3. Freeze the creamed bananas for a few hours.
4. Scoop and drizzle with a spoon of honey. The honey does make a big difference in the taste and make it taste even more like ice-cream.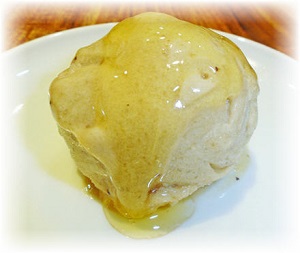 End of "Honey Drizzled Banana Ice-Cream" . Back to "Delicious Honey Recipes"