Barley Soup Recipe Rids Heatiness
Have a delicious, thirst-quenching bowl of barley soup!
Ingredients
I small round winter melon (skin and seeds removed, cut into 2-inch cubes)
1 small cup of barley (rinsed)
5 cups of water
Pandan leaves (washed)
2 tablespoons of honey
Serves 3 mugs of soup
Directions:
1. Boil water and barley seeds for 15 minutes. Keep flame low.
2. Add the melon cubes and pandan leaves and continue to cook for 15 minutes.
3. Leave the soup to cool.
4. Add honey before drinking.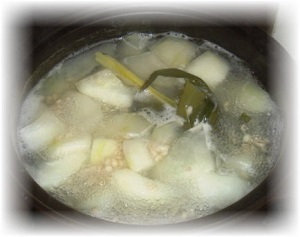 More Recipes on Grains and Barley
'The New Whole Grains Cookbook features more than 75 recipes, including Caramel Walnut Chocolate Chunk Granola and Saffron Quinoa con Pollo. A handy glossary details each grain. Most are easy to find, though author and Taste for Life contributor Robin Asbell provides a source list for locating the more unusual grains. Whether you favor wheat and rice or barley and quinoa, this cookbook has the right recipe for you.'Taste for Life, January 2008
End of "Barley Soup Recipe Rids Heatiness". Back to "Mouthwatering Honey Recipes"