Honey Cheesecake Recipe [No-Bake Version]
Comes with Honey-Lemon Thyme Drizzle!
By Mary Ross
This is my take on a quick and easy Honey Cheesecake recipe (no-bake version) from my friend Carlos at Spoonabilities.com.
For ideas about putting your own spin on this recipe as I have done here ( substituting graham crackers for Amaretti cookies for example ) please read "Tips on How to Make the Best No Bake Honey Cheesecake" from the original recipe (link above).
This light, mousse-like texture cheesecake, naturally sweetened with raw wildflower honey and topped with a honey lemon -thyme drizzle is the ideal summer dessert!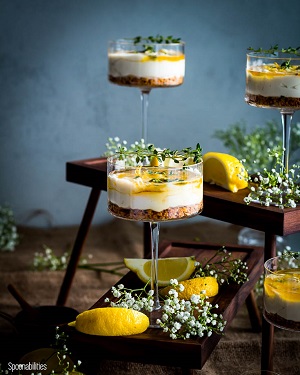 You can make this honey cheesecake (no-bake) in a dish or in individual serving glasses as pictured.
About This Recipe
Prep Time: 20 minutes
Cook Time: 2 minutes
Chill Time: 4 hours
Total Time: 4 hours, 22 minutes

Yield: Individual serving glasses will depend on the size of the glasses, and how full you make them. 8 servings if you make it in a 9" pie dish.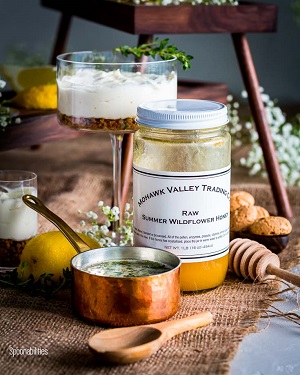 Ingredients
Crust:

* 2 cups graham crackers (ginger snaps, vanilla wafers or butter cookies etc.)
* ¼ cup + 2 Tablespoon unsalted butter, melted
* 1 teaspoon chopped lemon thyme herb

Cheesecake Filling:

* 16oz (2 x 8 oz. packages) cream cheese, at room temperature
* 1⅔ cups Labneh Cheese
* ¼ cup raw honey * 1 teaspoon fine lemon zest
* 2 teaspoons fresh lemon juice
* ¼ teaspoon salt

Honey Drizzle:

* cup raw honey
* 1 teaspoon lemon thyme herb
* 1 teaspoon lemon zest
Instructions
1. Place the graham crackers (or cookies) in a paper bag and crush them finely with a rolling pin.
2. In a bowl, mix the melted butter and chopped lemon thyme together. Combine well.
3. In 4 cocktail glasses or ramekins add the crust mixture (the amount of crust will depend on the size of your dish, but should be around 3-4 Tablespoons per glass). Press it down to form an even layer and refrigerate.
4. In a large bowl, add the cream cheese, Labneh cheese, honey, lemon zest, lemon juice, and salt. Mix well until the mixture is a smooth texture.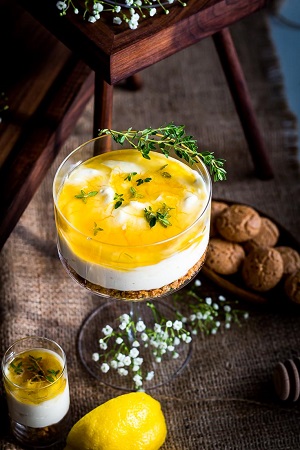 5. Divide cheesecake filling between the four cocktail glasses or ramekins and refrigerate for at least 4 hours.
6. When the cheesecake is set, in a small saucepan over low heat, warm the honey, lemon thyme leaves & lemon zest. This will take less than two minutes.
7. Remove from heat, let cool and drizzle over the cheesecake.
About the Author
Mary tries her best (everybody cheats once in a while :)) to live a natural and healthy lifestyle, of which she is an advocate. She loves writing about subjects she has an interest in and hopes to inspire others by doing so.
End of "Honey Cheesecake Recipe [No-Bake Version]". Back to "8 Mouthwatering Honey Recipes".