Chinese Honey
What's In There?
We all know how much the notoriety of Chinese honey has swelled over the years from the horrendous reports on honey frauds and honey laundering business in China that are pouring through the media. According to the China Bee Products Association, half of the honey sold in China is fake. Shanghai Daily (2013) reported that cheap honey sold by street vendors is virtually all fake. It is hard to differentiate the fake one and the real one as technologies for manufacturing fake honey products have become so advanced that even fake honeycomb made of gum and fake honey can pass traditional tests for flavonoid plant compounds and the oxidation index.
The story of Tara Bambrick, someone whom I bumped into virtually, would again make you think twice about buying Chinese honey. Despite having visited China a number of times, it's still quite an eye-opener for me to see Tara's picture of a Chinese beekeeper selling honey right from a red plastic pail. The fact that there are people who actually care (or dare) to buy from these beekeepers on the streets just blows my mind. Thanks, Tara for sharing with us. I love your story.
------------------
By Tara Bambrick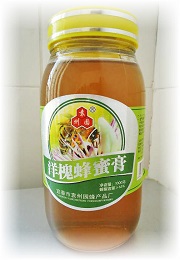 Chinese honey production, like in so many areas of commerce, is suffering from a great deal of bad press. Why? China may still be communist, but they have a capitalist love of money that is in no way new. And seldom do love of money and careful adherence to quality and safety standards go together. Send out a bad product and someone is going to notice.
Do the actions of companies that get caught reflect the actions of everyone? Likely not, but the damage has been done. I am currently living in China and worked my way through my third jar of honey produced by this country (the three of them pictured in order here). The third jar is actually made in Hunan province where I live, and it tastes the best out of the three jars I've sampled. On the truly local front, I have met a local beekeeper selling honey on the street. This site will be updated as experiences are accumulated. In the meantime, I'll outline issues and what I have learned personally below. I have a separate page that serves as a photo gallery of bees and other flying insects that I encounter here in China and other Asian countries if I get a chance to visit.
China as a Honey Producer and Exporter
Many countries buy honey in bulk from other countries. The product is bottled and then labelled as a product of the country that bottles it. It doesn't sound quite right, but it happens. As a consumer, you can buy a product with a nationalistic 'buy local' mentality, and the most local thing about it is the sales tax you pay. The reality is, if you buy honey in supermarkets, you have likely consumed Chinese honey.

China is a major producer of honey - as of 2006, they account for 25% of all exported honey in the world and 20% of the total world output of honey. Its major competitors are Argentina and Mexico. China only exports about 27% of their total output, and unlike many countries, they have kept their prices well under the international average, and thus stable.1 Despite this competitive advantage, they fight with trade bans due to a variety of reasons, including failure to comply with standards.
One of the major beekeeping regions in China is Qinghai province in the west adjacent to Tibet. A large province, it is sparsely populated with fewer than 5 million people. It is a common place to be sent for labour reform. While thinly populated, the province has plenty of grasslands and animals and turns out high-quality sheep and yak wool in addition to honey.
Traces of Antibiotics and Honey-Laundering
Chinese honey has become synonymous with 'tainted honey' and 'honey laundering'. In the former, antibiotics such as Chloramphenicol have been discovered in trace amounts in Chinese imports.2,3 Some of these antibiotics are known to cause blood disorders, although it is unknown whether the amounts found in the honey are harmful. Further, the imported honey is low-grade and destined to be further diluted before human consumption.
In the latter issue - 'honey laundering' - to avoid paying duties that are imposed by various countries on Chinese honey, China will often route their product through other countries.4 The honey will often undergo filtering to remove traces of pollen that can identify the source of the honey, or the end product is often labelled as another substance.
Buying Honey in China
So, we know that it is easy to get Chinese honey outside of China - it is present in much of the national-brand, 'garbage' honey that you can buy everywhere. How can you buy honey in China?
In Hunan province, in the south of China, which is not a big honey-producing area, you can get honey everywhere. Even in the small town where I am, honey is available on the shelves of the supermarket and in pharmacies. Honey is considered medicinal, and you can see it by the way it is marketed through special areas within the supermarkets and in honey displays or mini-shops outside of supermarkets. You can also buy it direct from beekeepers - either from their homes or right on the street, directly out of the pail.
I had one experience with a Hunanese beekeeper who was selling his wares right out of the bucket you see here. He even had raw honeycomb. I had gathered a crowd around me - it's not everyday you see a showdown between a foreigner and a rural Chinese beekeeper. In an attempt at a show of solidarity, I whipped out one of my old business cards with bees on it, and he couldn't have cared less. He wanted the sale, that's it.
After asking the price, I looked around at the crowd and one fellow was glancing at me while very slightly shaking his head. He was subtly telling me I was being cheated. I didn't end up with either the comb or the honey, but it is nice to know the local stuff is there. I am hoping to meet up with an actual beekeeper on site in the spring of 2011.
---
1 Ma, Lun Jiao. "International Comparison of the Export Competitiveness of Chinese Honey." Asian Agricultural Research 1:7 (2009): 17.
2 Oberman, Mira. "US Cracks Down on Chinese Honey Smuggling Ring." AFP 1 Sep. 2010.
3 Health Canada Chloramphenicol in Honey
4 Schneider, Andrew. "Honey Laundering: A Sticky Trail of Intrigue and Crime." Seattle PI 30 Dec. 2008.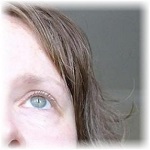 About the Author:
This article first appeared in Bees Alive, an educational site founded and authored by apiculture enthusiast, Tara Bambrick, whom we are grateful to for allowing us to publish this story here. Note: Her website is no longer available (Updated July 2018).
Related Articles
1. A question that more and more people are asking: Do You Eat Honey From China?
2. Natural Honey, Pure Honey, Raw Honey...honey labels can be confusing: Natural Honey, Pure Honey, Raw Honey ~ Making Sense of Honey Labels.
3. Read John Smith's take on Chinese honey: Is Chinese Honey Fake Honey?.
Any thoughts on Chinese Honey? Share and post them here!
Note: Please give your post some time to be moderated and published while we ensure spams are sieved out of the system.
Postings on "My Thoughts on Chinese Honey
I bought honey in a supermarket in Wuzhou China & it was absolute crap.....I was a beekeeper for many years in country NSW...am getting married & going to live in China for a few years....so this article is a God send....XXX....why does Bambrick remind me of THE FLINTSTONES....of course...Bam Bam & then Fred worked in a Quarry........

Clem, Australia
26 Aug 2016

Ruth:

Hey Clem, many ordinary folks like us could already somehow figure the difference in the quality, so what more for those with a beekeeping background!

Do share with us your new adventures with honey when you've moved to China, we would be very eager to hear from you again!

I just bought a jar of honey from a Manhattan chinatown supermarket. The honey claims 100% pure honey as the only ingredient and is from Hong Kong. It was also labeled as "winter honey" whatever that is ans saod it uses mixed flowers The brand is Po Sang Yuen Bee Farm. Heard of it, and do you know the purity of the honey?

Mikan, United States
16 May 2015

Ruth: Sorry Mikan, we haven't come across this brand of honey. I would avoid China sourced honey unless I know the beekeeper personally.

HoneyTree Honey imported from China?

Fred Hunter, United States
28 May 2014

Ruth: I'm not sure about the source of HoneyTree's honey. But considering the dangers of using artificial sweeteners, we wouldn't recommend a brand like HoneyTree that offers mostly honey substitutes - "imitation honey" and sugarless honey in its product range. It is unclear how serious they are about producing real quality honey that is beneficial to our body. You may be interested in these articles:
Eating Real Honey?
Sugar Substitute: What's behind each name?

Do you remember is the honey was runny or thick? I'm in China now and notice the sellers have a lot of runny honey, which makes me think it's been altered; but it could be affected by factors like humidity and flowers. Can you shine any light on this? Thanks!

Luigi, Canada
28 May 2014

Ruth: Most honey in Asia, including China tend to be runny due to the climate and humidity. While it's true that there is a lot of fake honey from China, viscosity of honey should not be used as an indicator of honey purity. You may be interested in this article, especially point (12): Frequently Asked Information About Honey.

Hi, I am also living in China, have been here now for 2 years and am a regular honey eater and buyer!

Only just recently I had a friend around at my house while I was using some honey. It was then that she mentioned a lot of honey in China isn't "pure". Actually, it hadn't even occured to me before that you can buy such a thing as "impure" honey! And since then, I've heard more about this..

I always buy the cheapest honey - as honey here is actually (relatively speaking) quite expensive. I guess next time I shall have to ask someone for advice on which one is actually plain, simple and "pure" honey!!


Jessica, Australia
30 Jul 2012

Before I get to the issue of honey from China, I would like to share a bit on how I see commercial honey as a whole.

I live in an urban food desert, where the agricultural sector is virtually absent and almost all fresh produce, including honey, is imported. Honey has always been scarce to me since the day I realised the sweet liquid came from the bees. I have yet to feel in the slightest that the global colony collapse disorder disaster has affected its scarcity in any way.

More in: Do You Eat Honey From China?

Related article: Which Honey to Buy?

Ruth, Singapore
9 Oct 2011

I have a strong feeling that is kind of 'urban legend'. I travel to China frequently & it is hard to think the honey there is that bad. They have bad names on many products but Tara may be fooled by the locals !! If need be I will update you after doing some research myself. Thanks.

Don, Australia
8 Oct 2011

I share your enthusiasm for this article on Chinese Honey as first hand reports from China by an outsider who speaks my language is not only welcome but rare!

As the oldest ongoing society on the planet, and with one of the oldest ongoing commodity/medicines, it stands to reason that more accumulated debauchery will be present there than in a nice clean and new society maybe founded by the Quakers or some clan bred from the DNA of the now departed Shakers. So I believe we need to analyse these events from the most basic and primary data and try not to be influenced entirely by mainstream attitudes, prejudices and popular facts.

More in Is China Honey Fake Honey?

John Smith, Australia
5 Oct 2011
End of "Chinese Honey, Take a Good Peek Here". Back to "How to Test for Pure Honey".