Gingerbread to Spice up This Thanksgiving!
This gingerbread cookie recipe will spice up the season with its warm burst of cinnamon and ginger spices and colourful decoratives. Serve as a great traditional treat for the family or pack into a pretty tin as a sweet Christmas gift idea!
The Recipe
You will need:
1 cup honey
3/4 cup butter
1 egg
1 tbsp milk
5 cups all purpose flour
2 tsp baking powder
1 tbsp ground ginger
1 tbsp ground cinnamon
1 tsp clove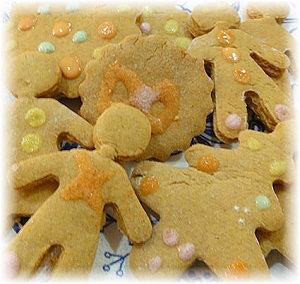 Steps to follow:
1. Cream honey and butter until light and fluffy.
2. Beat in egg and milk.
3. Fold in sieved flour, baking powder, cinnamon, ginger and clove and mix into a well-combined dough.
4. Wrap dough in plastic wrap and refrigerate for 1 hour.
5. Dust work surface and dough lightly with flour.
6. Roll out dough to 1/4-inch thick and cut into different shapes using cookie cutters.
7. Place on a well-greased baking tray and bake at 180 degrees C. for 10-15 minutes.
8. Cool on wire rack and decorate with any frosting or sprinkles.
9. Makes one big tin of holiday cookies!
End of "Gingerbread to Spice up This Thanksgiving!?". Back to "Honey Baked Ham Recipe"