Honey Are You For Real?
Honey Are You For Real? - A book that exposes the lies, deceptions and myths underneath the labels and claims of honey and casts light on how one can make smarter decisions when buying honey.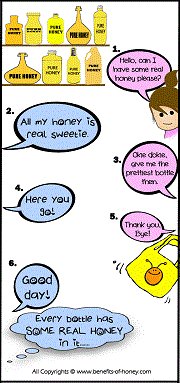 Was there ever a point in time that you felt besieged by the barrage of terms such as "natural honey", "pure honey", "creamy honey", "real honey", "raw honey" which left you with too many questions to form an informed opinion on which honey to buy, or have you ever wondered what was this "real honey" or "the best honey" that so many people were talking about? If yes, this book is for you.
Honey Are You for Real? is passionately written for those who seriously want to find out more about how to choose honey, and how to make sense of the various commercial labels, names, claims related to honey and for those who wish to clear the misconceptions and myths revolving honey. It is for all who genuinely feel that the sweetener means something to them and are eager to discover more facts that can help them make smarter buying decisions. Part of the book contents has been pulled from the pages of this website www.benefits-of-honey.com as the related webpages were written at different times and the contents on this subject are highly fragmented. This book, Honey Are You For Real aims to consolidate, revise, enhance and extend some of the web contents so as to offer a more coherent and in-depth understanding on the subject.
If your interest level is limited only to "honey is just honey, so just give me any honey", the information offered in this book would not mean much to you. But if you are surprised that not all honey is equal, and are intrigued to find out more, this book will not disappoint you. The exposing of lying labels, bogus claims and deceptive and misleading marketing promises will give you a completely new pair of eyes to see and weigh the worth of the honey jars you find on the shelves.
About the Author:
Ruth Tan is the founder of http://www.benefits-of-honey.com, the number one ranked website on Google, Yahoo, and Bing for benefits of honey. She is also the author of the books "Darling, Honey is Good for You!", "How to Effectively Use Honey as Medicine: What Doctors Don't Tell You" and "Honey & I: 101 Thoughts, One Thought a Day In Celebration of Honey and Bees".
Honey, Are You For Real?
~
This Kindle book is now in Amazon~
2.99USD
(Not available to those located in Asia & Pacific)
Check out Paperback Version of Honey, Are You For Real?

14.90 USD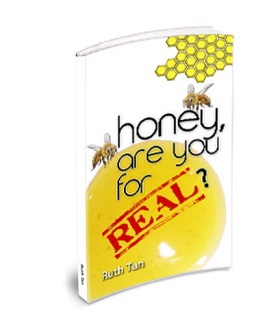 End of Honey Are You For Real?. Back to "How to Effectively Use Honey as Medicine: What Doctors Don't Tell You"