Honey Pineapple Tart - Get this Mouth-Watering Recipe!
This honey pineapple tart recipe has been modified by replacing the refined white sugar with a healthier sweetener, honey.
These greating-tasting tarts are a must-have during the Chinese New Year celebrations in Singapore. A favorite snack amongst the young and old.
We love these tarts and believe you will too!
Don't they look fantastic! Taste awesome too!
Pineapple tart recipe and picture courtesy of Yim
Filling Ingredients
2 honey pineapples
2 tablespoons of honey (more if you can't get sweet honey pineapples)
Method:
1. Grate and drain pineapples.
2. Cook drained pineapple on low heat until dry. Stir to prevent any burnt pineapple at the base of the pot.
3. Add honey to pineapple paste.
4. Leave pineapple paste to cool.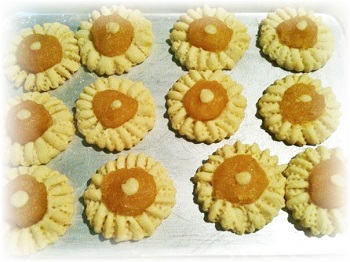 Pastry Ingredients
250g butter
1 tablespoon of honey
1 egg yolk
pinch of salt
1 tsp. vanilla essence
300 g of top flour (or add more flour to make a manageable dough)
1 tablespoon of milk powder
Method:
1. Cream butter and sugar and beat in egg yolk.
2. Add salt and vanilla essence.
3. Fold in sifted flour.
4. Roll out dough and cut into shaped pieces using cookie cutter.
5. Place a small ball of pineapple filling on top of each shaped piece.
6. Place ready-to-bake tarts in fridge for 10 to 15 minutes before baking.
7. Bake in preheat oven for 15-20 minutes at 180 degree celcius.
More Tart Recipes
Williams-Sonoma's cookbook series on pies and tarts, including exotic treats like the French Tarte Tatin and Fresh Fig Galette with Ricotta and Honey. The recipes are easy to follow and come with gorgeous photographs of pies, tarts and their respective ingredients.
End of "Honey Pineapple Tart - Get this Mouth-Watering Recipe!". Back to more "Mouthwatering Honey Recipes"