Honey & Health E-News
This e-news is dedicated to bringing Benefits of Honey visitors interesting news related to honey, food, health and nutrition issues, which I think are really worth a read.
Enjoy!
January, 2017, Robotic Bees for Pollination
As a solution to the worldwide decline of bee populations, scientists at Warsaw University of Technology, Poland have invented a flying robot that can navigate its own path to pollinate flowers and crop. The electronic bee uses an onboard camera and an external computer to plan a flight path as it pollinate the crop. According to National Agricultural Statistics, honey bees have declined from about 6 million hives in 1947 to 2.4 million hives in 2008. It is hoped that robotic bees in future could help ease the stress of honey bees.
September, 2016, Capilano Accused of Selling Toxic Honey
Save the Bees Australia's Simon Mulvany, an Australian beekeeper, claimed that Capilano Honey was selling honey that is full of antibiotics, toxins, irradiated pollen from China and alkaloids, and was hiding from consumers the fact that a large percentage of their honey was imported from China, Mexico, Argentina, Hungary and Brazil.
Capilano accused Mulvany of creating a smear social media campaign against the company and has taken legal action against him for the allegations after receiving a petition with over 30,000 signatures backing Mulvany's claims. The company maintained their innocence and asserted that the Capilano brand sold in Australia was 100 per cent Australian honey and their honey is neither toxic nor dangerous to health, but admitted that its secondary brand, Allowrie is mixed with honey imported from China, Mexico and Argentina, which they claim is clearly marked.
The Supreme Court of NSW has ordered Mulvany to remove the offending social media posts before a decision is finalized.
February, 2016, Australian Honey Producers Tap into Billion-dollar Global Manuka Honey Market
Many species of Manuka flowers (Leptospermum) have been identified across Australia. Local universities'research studies on the potency, healing, anti-inflammatory properties of the honey have shown that these species share the same powerful antimicrobial properties as New Zealand's Manuka honey, possessing the high level of additional non-peroxide, antibacterial components, which are stronger than other hydrogen peroxide types of honey. With runaway global demand for the small supply of New Zealand Manuka honey, especially for the higher Unique Manuka Factor (UMF) rated honey, the discovery of the Australian source represents a great opportunity for the Australian honey producers, who are raring to capitalize on the multi-million dollar market for medicinal honey.
October, 2015, Manuka Honey Scientist Peter Molan Dies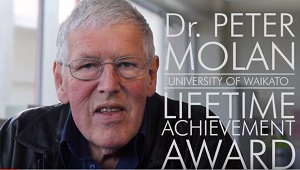 Peter Molan, the renowned scientist who discovered the healing powers of Manuka honey and revolutionised the New Zealand honey industry, has died on September 16, 2015 at the age of 71.
Molan began his research into the antiseptic properties of Manuka honey in 1981. He became professor of biological sciences and was director of the university's Honey Research Unit from 1995 to 2013. He created the Unique Manuka Factor (UMF) rating scale which led to his later work developing the Molan Golden Standard. In the 1995 Queen's Birthday Honours, he was made a Member of the Most Excellent Order of the British Empire (MBE) as his work on Manuka honey had been recognized as a significant driving factor in changing the perceived value of Manuka honey. Today, the UMF trademark has become the most trusted and highly sought after standard for buying the best Manuka honey. A billion-dollar global industry, Manuka honey has been proven to effectively help cure infections related to the skin, mouth, and throat, and treat infections and wounds all over the body.
March, 2015, What is Apitherapy Tourism?
This is what Honey Colony has reported in their website about Apitourism in Slovenia when a visitor on an api tour would "enter an oversizedbee house, where you can listen to the relaxing buzz of the bees", "the beekeepers place beds within bee houses, thereby transforming it into an apitherapeutic chamber... In this chamber, you are invited to inhale the healing warm beehive air."enjoy an organic honey massage or thermotherapy whereupon warm wraps of beeswax are laid on your body, allowing beeswax and propolis to dissolve in your skin..." This sounds totally inspiring, right? But would it be the type of vacation for you?
March, 2015, Flow Hive Rocks Beekeeping World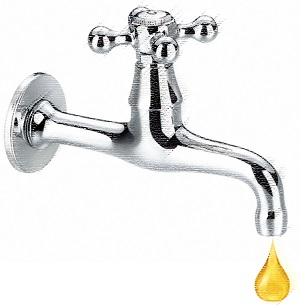 On 22 February, 2015, a father and son team from Australia (Cedar and Stewart Anderson) launched what was hailed as "the most significant innovation in beekeeping since 1852" - The Flow Hive. Their invention allows harvesting of honey without opening the hive and with minimal disturbance to the bees. Turn on the tap and honey would flow right out of the hive and into your jar. As reported by Indiegogo, the Flow Hive is the new record holder for the largest global crowdfunding campaign ever on the international platform. It raised a jaw-dropping $4.2 million in just 9 days. It was reported that this new way of beekeeping would encourage thousands more people to become passionate carers and advocates of bees. But how? More in: Flow Hive Works Like Tap.
May, 2014, Hunting Mad Honey - An Amazing Documentary
Watch how natives from a Nepalese tribe hunt in the dangerous mountains for "honey for immortality", a wild honey with natural psychoactive properties (hence also known as the "mad honey") and how they "steal" from the aggressive Giant Himalayan bees, world's biggest bees. Nectar is collected by these bees from the wild flowers of Rhododendrons which contain Grayanotoxins, a poison that can cause death when overdosed. The tribe believes tha the honey is supreme in its medicinal value and contains exceptional health benefits.

April, 2014, Nations Gripped by Honey Shortage
If you eat honey sourced from Australia and New Zealand, be prepared to pay more as the prices soar. In Australia, beekeepers are facing their worst honey season in ten years. Droughts, bush fires and floods have been cited as reasons for the terrible harvests.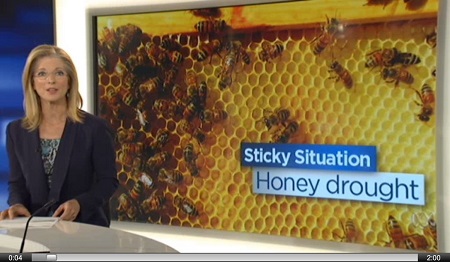 And in New Zealand, honey consumers are also stung by steeper prices. The bees are staying inside their hives due the colder weather and stronger winds.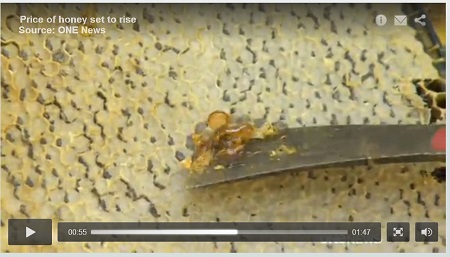 Jan, 2014, The Honey Diet Book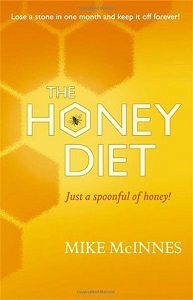 Mike McInnes, the author of the Hibernation Diet, has launched his new book, The Honey Diet. As more and more research points to the link between sleep and metabolic disorders such as obesity, hypertension, and type 2 diabetes and suggests that addressing your sleeping habits may be key for both the prevention and treatment of these disorders, The Honey Diet book will become even more significant in theorising the role of honey during restorative mode. More on how to fed the brain with honey and sleep away the fats in The Honey Diet Book.
May, 2013, Propolis Bee Farm in Penang Botanical Garden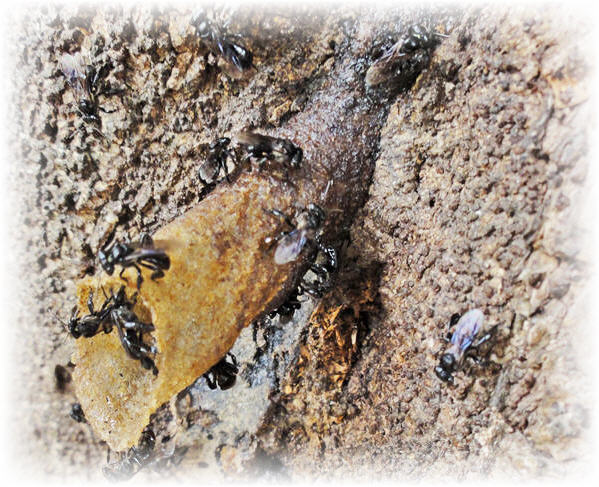 The propolis bee farm at the Penang Botanical Garden was open to the public since 2009, but it is news to me as we just stumbled upon it and discovered it! And it will be inside my bucket of to-visit-places!
Visitors can learn how the tiny, black stingless bees (Trigona bees) there are bred and how they collect propolis, a resinous mixture known for its potent antibiotic propoerties, from the surrounding botanical plants, as well as how they extract nectar from the garden's floral sources to produce honey. It is said that the bees there produce as much as 500kg of raw medicinal honey every month for commercial purposes. That means visitors can purchase and bring some honey and propolis back from the garden!
Address: Kuarters D, Mukim 18, Taman Botani, Jalan Kebun Bunga, 10350, Georgetown, Penang
March, 2013, Honey, Are You Real? Launched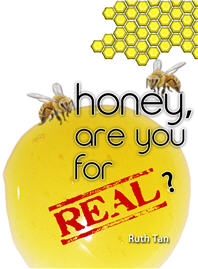 Ruth Tan published her third book in Amazon - Honey, Are You Real? Too many consumers have fuzzy ideas about honey in different forms and often wonder which honey is more superior (we are not referring to the thousands of different floral varietals worldwide). Other than claiming their honey to be pure, most honey suppliers do not explain very much about their honey. For instance, those who have been eating cream honey tend to question the quality of liquid honey when they see it for the first time, and similarly, those who encounter cream honey for the first time assume it is of a more superior quality than the liquid honey they are familiar with. This book gets to the bottom of the terms used in the honey world - such as raw, pasteurized, creamed, liquid, filtered, pure, crystallization, monofloral, multifloral, etc. It is specially written to help those who are curious about honey and would like to learn how to choose a bottle of honey from the shelves more intelligently. Get more details in: Honey Are You For Real?






End of "Honey & Health E-News". Back to "BuzZStop: News!"