Honey Bees Images
Some of you know how Herculean a task it is for me to capture honey bees images. Firstly, I'm not a beekeeper and I own no hives. (You see, I just love to eat honey.) Secondly, where I live, bee farms do not exist and bees are hardly encountered. (It's an incredibly safe place for those who are allergic to bee stings, but for honey frenetics like me, we constantly pray that beekeeping would one day become lawful.) Thirdly, I'm terribly afraid of creepy crawlies, including bees. I'm almost too shy to admit this, but it's a psychological fear of hearing the buzz. Yes, yes, I know it's totally ridiculous when you revel so much in honey and have an awesome respect and love for what honey bees can do, BUT I'm making some good progress in overcoming it. Lastly, please consider taking pictures of bees a titanic feat - these creatures are tiny, have wings and do fly! So when I do see a bee and I have a camera with me (especially when I am overseas), I do strive very hard to snap the best possible shots.
So, enjoy this slideshow - my personal album. There are now not as many honey bees images as I would like to own, but I promise the number will grow, slowly but surely.
Cheers!
PS: You can ask me which part of the world these pictures are taken in, but don't ask me about bee species names as I haven't the slightest clue.
Free DHTML scripts provided by Dynamic Drive
View These Bee Pictures Collected From Public Domains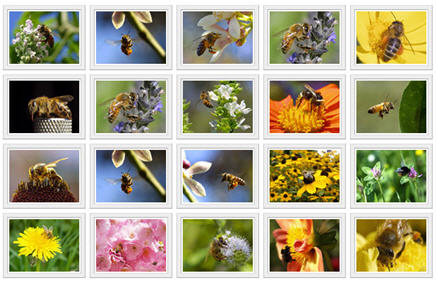 Comments on Honey Bee Images
Note: Please give your post some time to be published while all posts are being monitored and spams sieved out of the system.



I like this website very much and I have learn a lot about honeybees from it. But some of the photos are scary.

Devansh, India
29 May 2012

I HATE honey but learning bout honey bees is pretty cool actully I don't like bugs so I tune in from a far lol im a suck when it cums to bugs lol I run but ya bees are kinda cool when u learn bout them and find out how they do what they do its like wow I had no clue they worked that hard it makes me appreachate them even though I don't like bugs.

Lisa, Canada
26 Oct 2011

I've always been told honey is good for you so I decided to try it.

Phyllis, United States
2 Oct 2011

Hi, nice website.

Aleksandar, Macedonia
14 Aug 2011

This is an awesome Web Site as I love photographing Bees.

Having a great interest in them, their differing little characteristics is fascinating to me.

I slowly and with great respect approached a bee hive in the Town of Windsor NSW.

Being gentle not to disturb them too much, they were flying all around me as I slowly moved my camera in the take a macro shot of the swarm!

Thank you for all the darta you have here. It is well appreciated by many I'm sure.

My very best regards

Colin and Belle Spratt.

Colin Spratt, Australia
20 Mar 2011

Your site intrigues me. I have an interest in honey too and would like to know more about it, especially how to sell it and its products. But first I have to become knowledgeable about bees, honey, and all the honey products.

Mimi, United States
20 Feb 2011

Thanks heaps for all the information, the glorious photos, as I am a photographer who just loves them bee-ing around me. They are so friendly when you stand still whilst they are doing their fine work. Amazing!

Colin

YOU CAN VIEW SEREN'S BEES ON WWW.REDBUBBLE.COM.AU/ PEOPLE/IMSSERENDIPITY

Colin, Australia
28 Dec 2010

Great Web site.

Michelle Edwards, United States
16 Oct 2010

Incredible site! So much data had to take a lot of love to put together. I am truly impressed. Thanks for the effort.

John, United States
11 Oct 2010