In the Name of Honeycombs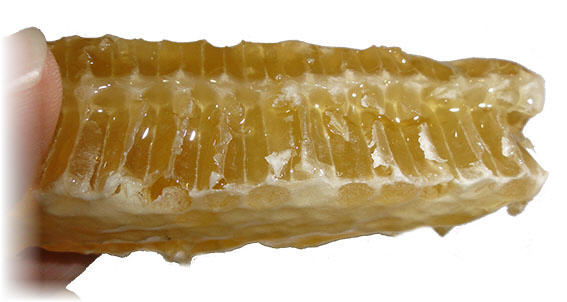 I find it interesting to observe that honeycombs have become a favourite theme in many foods and snacks, including chocolates, candy, cakes, and even sugar. Perhaps manufacturers know consumers can't help but to immediately associate the symmetrical cells of refined sugar with positive, wholesome notions of sweetness, health, and nature.
Here are several foods made to look just like honeycombs and of course, you probably have more to suggest. Totally awesome and incredibly mouth-watering looking stuff, but some of these have a tremendous amount of empty calories present in them and are rejected as junk by the health-conscious.
1. Candy Bar - Spongy looking but absolutely crunchy. A hit amongst teens.

2. Malay Cake, Ambon - A rich Malay traditional cake made of coconut milk, sugar, and egg. The gorgeous, elastic texture is a big draw.

3. Chocolate - Soft, fragile, melts in the mouth and is highly addictive amongst the sweet-tooth.

4. Rock Sugar - A popular ingredient in many Chinese traditional sweet desserts, soups and cakes.

5. Honeycomb Cereal - A honey-sweet taste corn and oat cereal that contains no honey but has become an addictive breakfast choice of many children and adults alike.
End of "In the Name of Honeycombs" Back to "Puzzling Wild Honey Questions. Need Your Help!".