A Wholesome Bread Recipe Using Honey
I attended a 3-hour home bread-making class and subsequently modified a bread recipe by replacing the prescribed sugar with honey.
Home-made breads last for only two days in room temperature as no preservatives are added, but compared to highly-processed commercial breads that last for the entire week, they are really much fresher and healthier to eat – definitely a terrific addition to your healthy diet.
Try it, I personally find the process of bread-making rather therapeutic – the precision in measuring the ingredients, the kneading job (an old-fashion way, but certainly will give you a strong "hand-made" feel about the bread), the watching and waiting for the risings, the anticipation while the dough grows in the oven, and satisfaction you get when confronting the outcome from the oven and sharing the labor of your work together with your family and friends. I'll probably add more recipes as I explore more of it, but meanwhile let's start with a really easy one, something the kids would love!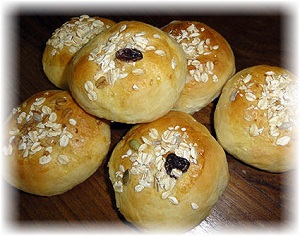 Honey Bread Recipe
This bread is sweeter than the normal Western bread. Somehow, Asians love sweet breads. It probably has something to do with the ancient times when white sweet buns are commonly steamed and eaten fresh and hot. This recipe makes buns enough for 5 to 6 persons.
Ingredients:
50g plain flour
220g bread flour
2 teaspoons instant dry yeast
10g milk powder
5g sea salt
1 tablespoon honey (here I choose to use cream Pumpkin Honey)
30g butter
Half egg
125ml water
1 tablespoon Olive oil for greasing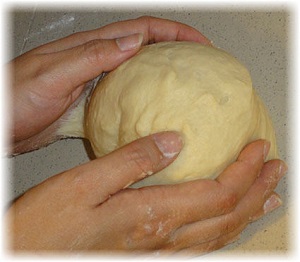 Glazing
Half an egg (just take the remaining half required for the dough)
1 tablespoon milk
Optional: Half cup of raisins
Directions:
Mix all ingredients in a big bowl and stir mixture into a dough. Spread some bread flour on the table to prevent the dough from sticking and knead it with your fingers for about 10 mins until its texture becomes soft and smooth. Allow it to rise in room temperature (30C) for 30mins to 40mins until it doubles the original amount. (If your weather is not as warm as mine, turn on the oven to the lowest temperature for about 5 minutes to make a warm place for rising.)
Flatten the dough, And if you like to make it more exciting for the kids, add raisins on the flattened dough, fold and roll it up. Cut the roll into small equal sections and roll each into an oval shape with the palm. Grease the baking tin with olive oil. Rest all pieces on the tray for about 30mins to 40mins (second rising) until they become twice as big.
Slash the middle of each roll with a knife. Brush a layer of egg and milk glazing mixture over the top of each roll. (You can sprinkle muesli flakes or sesame seeds on top as well to make the crust even crunchier.) Bake in a pre-heated convection oven at 180C for about 15mins to 20mins. (No microwave oven, please.) Serve either hot or cool with butter or honey butter spread.
Make Bread Using "Cup" Measurements
If you feel it's too big a hassle to prepare portions of ingredients in grams and ml, take my sister's "Chocolate Chip Honey Bread Recipe". She has used my recipe and improvised it such that no weighing machines and measuring cups are required. A cup is only what you need, very convenient!
Alternative Recipe using the same method as above:
Chocolate Chip Honey Bread Ingredients:
2 cups of bread flour
2 teaspoons instant dry yeast
1 tsb milk powder
1 tablespoon honey
1 tsb melted butter
1 egg (beaten and leave a little behind for glazing)
1/2 cup water
1 tablespoon Olive oil for greasing
For glazing : ( egg & 1 tablespoon milk)
1/2 to 3/4 cup ( or as much as you like) choc chips
The Bread Bible
If you love bread baking or you are into collecting bread recipes, you probably would not want to miss this book "The Bread Bible" by Beth Hensperger. It offers 300 different bread recipes which will last your baking for a long long time.
Raisin Honey Loaf
Bake fresh bread with raisin and honey. Get the recipe here: Go to Raisin Honey Loaf Recipe
End of "A Wholesome Bread Recipe Using Honey" . Back to "Delicious Honey Recipes"