2-Ingredient Natural Beauty Tip - Honey Lemon Facial Mask
You just need these two simple ingredients from your pantry to make a pampering mask for a radiant and glowing complexion - honey and lemon.
Your will Need:
1 tablespoon honey
1 teaspoon lemon juice
Why Lemon?
Lemons brighten, exfoliate and help in the removal of dead skin cells as they are a natural source of vitamin C and are filled with alpha-hydroxy acids (AHAs) which help to slough away the dead skin cells, improve circulation and stimulate new cell growth. They are great for treating aging skin, sun spots and or uneven skin tone, brightening the skin, and reducing blemishes, blackheads and excess oil on the skin.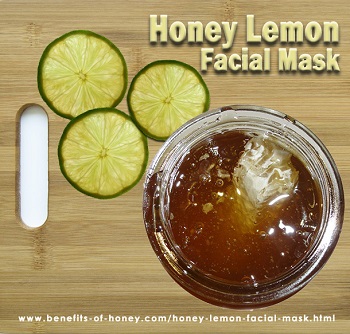 Why Honey?
Honey is a natural antibacterial agent full of antioxidants that fight free radical damage to the skin. It absorbs impurities from the pores and the skin. Ancient beauties used honey on their skin regularly to keep their complexion looking young and radiant. Honey also has antiseptic properties that help heal scars and inflammation, reduce and relief sunburn. In addition, it is a natural humectant that helps to retain water in the skin and moisturize the skin.
Instructions
1. Cleanse your face.
2. Cut a lemon and squeeze out a teaspoon of juice.
3. Mix it with a tablespoon of raw honey.
4. Apply evenly over the face and neck, avoiding the eye area.
5. After 20 minutes, rinse off and dry the face.
6. Repeat one or twice a week.
With this simple natural beauty tip, you can forget about getting expensive facial products!
Related Pages
1. Pick one that suits your skin type: 10 Easy Face Mask Recipes for Different Skin Types.

2. Get beauty tips from others in: Postings on "Honey Natural Beauty Health".

3. A controversial mask because it seems too easy to remove facial hair - Honey Lemon Mask For Facial Hair Removal.

4. Try these aromatic face masks with nutmeg, socoa and saffron: 3 Fragrant Honey Face Masks

5. Incorporate this deep cleansing purifying clay mask into your weekly beauty routine for a well smooth and brighter skin: Purifying Honey Clay Mask.

6. Why honey is such a popular ingredient in many anti-aging skin care products: Precious Anti Aging Skin Care Tips with Honey.

7. Six simple honey recipes for you to treat, rejuvenate and refresh your skin!: 6 Pampering Homemade Natural Skin Care Recipes with Honey.





End of "2-Ingredient Natural Beauty Tip - Honey Lemon Facial Mask". Go to "Natural Skin Care"