The ingredients found in the ice-cream perhaps bring some light to the mind-boggling phenomenon:
Milk, Cream, Buttermilk, Sugar, Whey, Corn Syrup, Contains 1% Or Less of Mono-And Diglycerides, Vanilla Extract, Guar Gum, Calcium Sulfate, Carob Bean Gum, Cellulose Gum, Carrageenan, Artificial Flavor, Annatto For Color
While many speculated the corn syrup, calcium sulfate and gum additives that act as food stabilizers could be responsible for holding the ice-cream together, no one could really confirm it. But you wouldn't find these ingredients in brands such as Haagen-Dazs.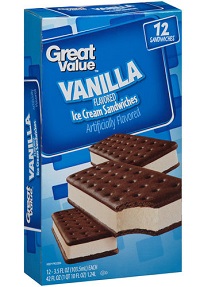 Well, an ice-cream that doesn't even melt in the sun may stand out immediately from the crowding shelf space of ice-cream and make people scream with excitement when they see or hear about it. But I really wonder what this "Great Value" that Walmart is talking about. Is anyone really looking for an ice-cream that doesn't melt? How appetizing is an artificial ice-cream that clearly defies nature and never changes its shape? Some people actually say those gums and sugar substitutes are everywhere in other foods and thus there should be no cause for alarm. This isn't a great argument either. Since when these food stabilizers, processed sugars and chemicals are known to be beneficial for our health?
Ruth Tan
Jan 2015
June 2018 (Updated)
Related Pages
1. Froot Loops has been given a Smart Choice label! How possible is this? Read: Froot Loops Gets a Healthy Food Label?
2. Trying to read food label but unable to make sense out of it? Get some tips here: Did You Know Reading Food Label Can Be So Tricky?
3. You will be shocked to find out what "Carmine" is. This coloring substance is now found in foods like juices, milk, candies and cosmetics: Does Natural Food Coloring Bug You?
End of What Is In The Ice-cream That Does Not Melt?. Back to "Sugar is Bad, But is High Fructose Corn Syrup Worse?"